High color fidelity approaching an ideal is a common feature of "high CRI" Osram LEDs with CRI up to 96.
This is an archive article published 03/20/2014. Some information may no longer be up to date and in line with the current state. Please contact us in case of interest.
When you recall to lessons of physics from your basic- or grammar-school, probably you´ve heard a term "black body radiation". As we know, each object with a given temperature radiates in a wide range of wave lengths, while a maximum of a radiation depends on its temperature. We mention it because the Sun also operates on this "principle" and its spectrum (light) depends mainly on its surface temperature. Temperature of an object is also the most important factor influencing whether the light will be "warm" or "cold", that´s why a term color (chromacity) temperature CCT is used.

Even though a portion of radiation (some wave lengths) is absorbed in atmosphere, it can be said that it is very near to a black body spectrum and it´s ideal for us in respect to a pleasant and true color perception.
There are several methods to evaluate color fidelity and one of the most important is so called CRI (color rendition index, maximum = 100). To an ideal light source with CRI =100 is very near a classic incandescent bulb, even though it´s spectrum is shifted towards warmer tones. Unfortunately a light spectrum gained from hot surfzce object also contains a large portion of thermal (infrared) radiation, what causes a low efficiency of incandescent bulbs. However LEDs deploy emission of photons on an other principle (change of electrons energy), so their surface is in fact "cold" in comparison to what temperature a black body radiator should have to gain a similar spectrum.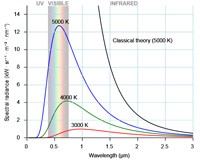 Modern LEDs have a high CRI, usually over 70. But among LEDs we can find types with even higher CRI (above 80) , as well as "color champions" with even higher CRI. To such champions also belong LEDs from the OSLON Square series, which we introduced to you in our article New LED OSRAM OSLON Square withstands up to 1.5A. Since then company Osram advanced in development and was able to make types with a typical CRI 96 (!), for example LCWCQAR.CC-MPMR-5J7K-1 (4500K).
Light fidelity of this LED is extremely high and such light is very suitable for lighting of areas with high requirements for a light quality, like for example: galleries, museums, shops, photographic ateliers as well as for an everyday work. Despite a high CRI, this particular type also features a considerable efficiency of 180-224 lm/700 mA and a max. current up to 1500 mA.

Among novelties from company Osram can also be found the Oslon Square 2nd generation with even betterthermal features increasing lifetime and efficiency at high temperatures. Moreover this new 2-nd version is sorted (binning) at 85°C, what ensures minimum color in a real operation.

Advantages/ Features of high CRI types:
natural light with a CRI min 90 (typically 96)

suitable into areas with high requirements for a color fidelity

high efficiency

available with CCT 2700-4500K

even better thermal features

higher lifetime

max. operating temperature up to 125°C

max. current up to 1800 mA

binned at 85°C (minimal differences in color in a real operation)
Do not miss these articles
Do you like our articles? Do not miss any of them! You do not have to worry about anything, we will arrange delivery to you.
Gain a new Oslon Square for free!
Competition with the following question has been published here:
What´s the radiation angle of LCW_CQAR.CC (50% Iv) LEDs?
The correct answer was: 120´
We have drawn the following winners:
Michal Jandek [SK]
Matej Rajčan [SK]
Martin Pyszko [CZ]
Ľubica Kalčevská [SK]
Miroslav Lízner [CZ]
Jiří Rozkopal [CZ]
Štefan Rafanides [SK]
Michal Giemza [CZ]
Radim Bloudíček [CZ]
Frantisek Gyepes [SK]
Congratulations to winners. We´ll inform them by e-mail.