Miniature PCB connectors from company Phoenix Contact bring a surprisingly simple manipulation and they occupy only a minimum of space.
This is an archive article published 10/19/2012. Some information may no longer be up to date and in line with the current state. Please contact us in case of interest.
• PTPM - (PTPM-x/x-P-2,5) a miniature, only 5mm high wire-to-board connector, consisting of 2 parts (socket + header). PTPM connects wires without stripping an insulation (IDC). It is ideal for Ethernet cables and other wires of 0.14/0.34 mm2 (AWG 22-26) diameter - depending on a type. Maximum current 2-4A/160V, 2.5 mm pitch. Number of poles is always even (2-4-6-8-10).

• PTSM - a connector similar to PTPM series, but the cable termination is screwless (push-in) via a spring contact. That enables to use up to 0,75 mm2 conductors - solid but also stranded wires.

• PTSM - (PTSM -x/x-2,5-H, resp PTSM-x/x-2,5-V) terminals for a direct connection of wire conductors to a PCB (THT and SMT version).

• PTQ - IDC wire-to-board connector for extremely simple connection of wires to a PCB. All that is necessary is to push in an Ethernet cable or other 0.14/0.34 mm2 cable and to close the lever (upper portion of the connector - without stripping an insulation, without cutting and without any tools. No tools are necessary even to release the wire - only open the actuation lever. Maximum current up to 4A/160V, 2.5 mm pitch, 8mm height.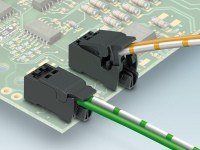 Plug-in connectors of PTPM and PTSM series use the same headers (PTSM-x/x-HH-2,5, resp PTSM-x/x-HV-2,5), what further increases their variability. Headers are available in THT as well as SMT versions (horizontal and also vertical). These new miniature connectors are universally usable for power supply, data and analog signals, connection of LED panels and other. All 4 series are being supplied in tapes (TR) enabling a machine insertion to a PCB.
Detailed description will provide you the overview of
Phoenix PTSM and PTPM
and
Phoenix PTQ
series, as well as datasheets at particular types. Many versions can be found directly in our stock, in case of interest in non-stock types, please contact us at
info@soselectronic.com
.
Videos
Miniature easily applicable PCB connectors from Phoenix Contact
Advantages / Features:
universal PCB connectors

miniature dimensions

extremely simple usage

the way of usage significantly decreases error rate at connecting of cables

2-8 poles (PTPM up to 10 poles)

suitable for Ethernet (CAT5e), mixed-signal, power supply and other

usage up to 2-6A/160V (depending on a type)

SMD and also HT versions

horizontal and vertical versions
Do not miss these articles
Do you like our articles? Do not miss any of them! You do not have to worry about anything, we will arrange delivery to you.