Are you one of us? Electricians and nervous wrecks? Phoenix Contact Systems promise solutions. Beneficial effects will occur already after the first installation.
This is an archive article published 01/15/2019. Some information may no longer be up to date and in line with the current state. Please contact us in case of interest.
Has it already happened to you that you were in the fury and anger when it was not enough just to cut off the cable, but you had to strip each wire, crimp the ferrule, then loosen the screws in the terminal block, insert the wire, tighten the screws (I am not mentioning crimping just in case as you would most likely not finish reading the article or, in the worst case scenario, you could break your notebook).
There are connectors and terminals with the Push-In system to mitigate the adverse impact of the older installation systems, but the true relief comes with the QPD system.
QPD installation system with QUICKON connection
Industrial power distribution does not have to be time-consuming or complicated. The robust IP68/IP69K QPD installation system for capacities of up to 690 V / 40 A proves this. Thanks to the proven QUICKON IDC displacement connection, cables of up to 5 x 6.0 mm² can be connected quickly and easily, without the need for stripping or special tools.
QPD product range overview: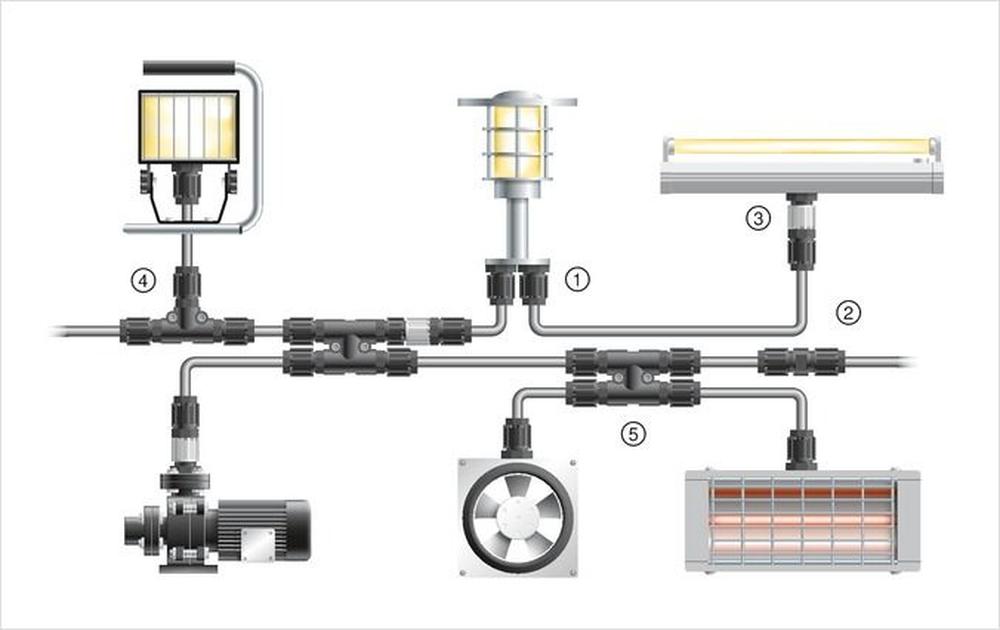 (1) Panel feed-throughs
Panel feed-throughs are cable glands that can be connected from the outside. As a result, devices no longer need to be opened in order for cables to be connected. This ensures that the specific protection class of the manufacturer is maintained.
(2) Cable connector
The cable connector can be used for cable extensions or repairs. Combined with the connector, the cable connector can be used as a flexible coupling connection.
(3) Connector
The connector with capacitive PE contact is particularly suitable for replacing devices quickly – whether during servicing or when installing pre-assembled conductors. It is coded to prevent incorrect connection.
(4) T-distributor
With the help of the T-distributor, a branch line for loads can be easily installed.
(5) H-distributor
The H-distributor is a compact and robust junction box that can be connected quickly. The four connections are connected in parallel to each other, which also enables use as a 4-way distributor.
QUICKON – secure connection in just a few steps
QUICKON fast connection is based on the IDC insulation displacement connection technology and is designed for applications where round and AS-Interface cables need to be connected efficiently on site. The connection can be disconnected at any time, which means that components can be reused. This connection system enables you to connect multi-position cables in just a few steps. The fast connection technology automatically establishes the contact and strain relief when tightened. Thanks to the quick and easy handling of the QUICKON fast connection, the connection time can be reduced by up to 80%.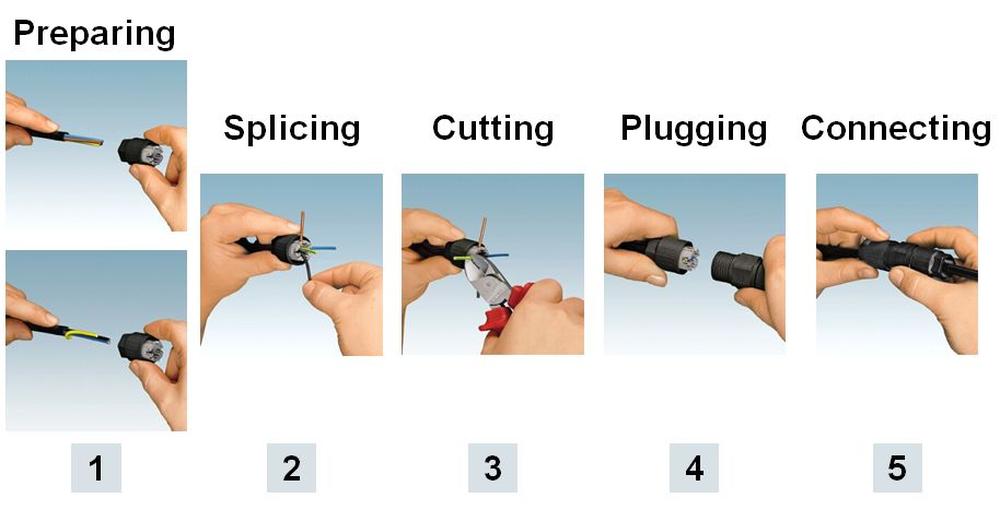 Application areas
Installations in industrial systems and infrastructure facilities:
Widely branching industrial systems and infrastructure facilities place stringent demands on the components in use. Our IPD and QPD installation systems provide flexible and robust solutions for continuous power distribution.
Panel feed-throughs for devices:
The convenient installation of a connector begins during the device manufacturer's design-in process. The installation system panel feed-throughs can be installed directly in the device.

Look at the face of that guy in video, it needs no comment :)

If you need more information, or if you are interested in other PHOENIX CONTACT products, please contact us at sales@soselectronic.com

Features / Benefits:
Three sizes - for cross sections 1,5mm², 2,5mm² and 6mm²

Number of positions - 3, 4, 5 (for 1,5mm²)

Number of positions - 4, 5 (for 2,5mm²)

Number of positions - 5 (for 6mm²)

Rated voltage 690V

Rated current up to 40A

Operation temperature range -40°C up +80°C

Time savings of up to 80% for on-site connection

Quick and easy assembly without special tools

Flexible power distribution design thanks to fixed and plug-in QPD versions

High reliability thanks to robust housing with up to IP68/IP69K degree of protection with IK07 shock resistance

The electronics are thoroughly protected as the housing does not need to be opened, even when connecting the power supply
Videos
Thanks to the proven QUICKON IDC displacement connection, cables of up to 5 x 6.0 mm? can be connected quickly and easily, without the need for stripping or special tools. The connection time can be reduced by up to 80%.
Do not miss these articles
Do you like our articles? Do not miss any of them! You do not have to worry about anything, we will arrange delivery to you.