Mr. Bátorfi has been working at Intelliport Solutions for more than 14 years. Topic of Industrial solutions in IoT is his hobby, passion and fortunately his work as well. Intelliport, which is based in Budapest and operates internationally, offers solutions for mobile communication, and deals with the development of business and industrial systems.
In his lecture at the DEBATECH conference, Mr. Bátorfi discussed the topic of NB-IoT and LTE-M technologies in practice - what are the possibilities of their use, key advantages, but also their limitations? Read the article or watch the recording from the conference that is attached at the end of this article.

Boom in IoT technologies
He draws attention to one interesting fact right at the beginning of his presentation. In recent years, IoT technologies have gone through great development. The already mentioned rapid development of IoT technologies is behind the chip crisis that has started in recent years. IoT has many areas of focus, but two of them are the most important - Narrowband IoT and LTE-M technologies. 
Saving costs as well as lives 
IoT technologies are used in many areas of life. "I think that, like any new technology, this one also develops especially where there are the biggest problems. I would also like to give an example from my own practice. One of the first such IoT solutions - not yet with LPWA technologies, but with older ones - is a solution for road meteorology along public roads, in the development of which we participated. It was about the fact that there were various sensors along the roads thanks to which we were able to predict icing about 0.5-1 hour in advance. And the system still works today. That means, we have time to remove the ice and we can prevent accidents," says Mr. Bátorfi. 
As customer demands grow, network coverage improves, new products are being launched and, what is important, investment and operational costs are being reduced. "This is roughly the meaning of the IoT pyramid. As we move down the pyramid, first we have 'mission critical', then 'business critical' and now we are entering a period when almost all of our devices will become part of some kind of IoT solution," adds the CEO of Intelliport. 
IoT is growing and is turning into the Internet of Everything
A very good example of IoT solutions in the "business critical" area are John Deere vehicles with remote control with "proactive maintenance" that use IoT solutions. John Deere are agricultural machines that are used for example also for logging deep in forests in hard-to-reach terrain. We are talking about thousands of machines that require regular maintenance. Thanks to accurate forecasting and maintenance planning, we can prevent high damages. Although such systems do not save lives, they have a very good return from a business point of view and are financially important for companies.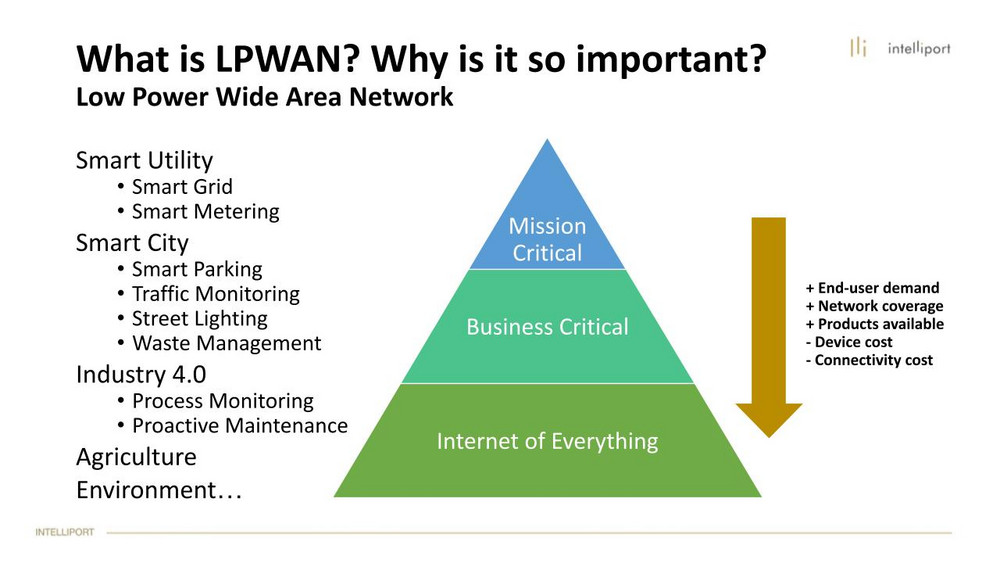 Practical IoT solutions that make life easier
Some IoT solutions may not directly bring business benefits, but they make life significantly easier and contribute to environmental protection. As an example, we can mention parking sensors, smart metering, and energy solutions.
IoT technologies are very important these days. The world is fighting with the energy or food crisis, more and more hot climate topics are being discussed, and therefore any streamlining of the system can help significantly in these times.  
Basic LPWA technology 
For IoT solutions to continue to be massively expanded, it is necessary to ensure the basic technology. LPWA is one of the low-power communication technologies enabling long-distance wireless communication. It has several variants. However, Mr. Bátorfi highlights these two in his lecture - NB-IoT (Narrowband IoT) and LTE-M (LTE Cat-M or eMTC) . He supposes that 2 billion devices only with these two technologies will be used in the following 3 years. 
What is important to remember, network operators implement these 2 solutions globally. Apart from Africa and developing countries, NB-IoT or LTM technologies are already available in almost all parts of the world.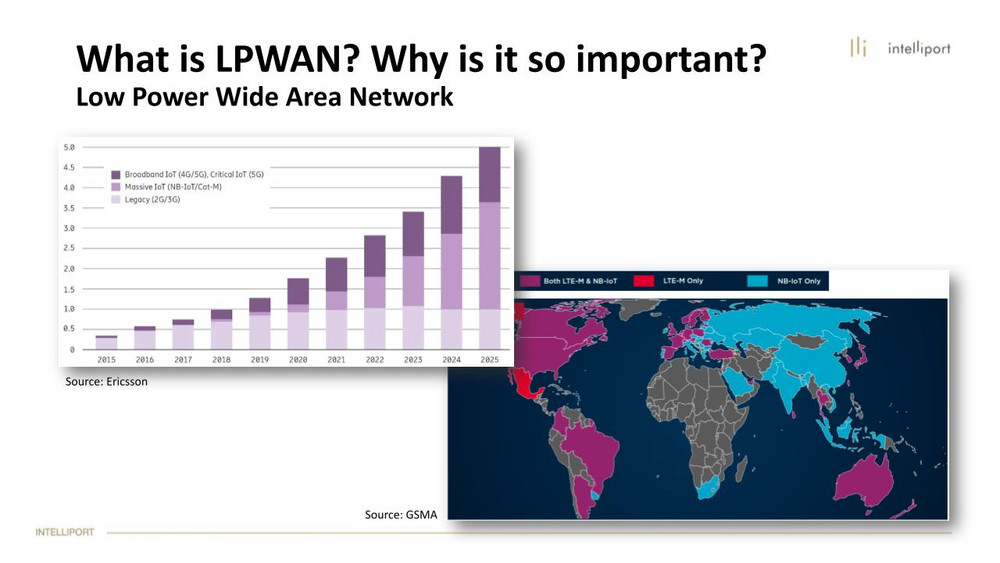 3GPP technologies 
In recent years, the way has been opened for the explosion of IoT. One of the conditions for this growth is LPWA (low power wide area), i.e. low-energy technologies enabling long-distance wireless communication. 
However, this technology is far from being the only one: "At Intelliport, we chose the so-called 3GPP technologies that can be operated on traditional, already built mobile networks. Thus, it is not necessary to create new bases. Already existing networks can be upgraded to support such technologies. Launching them is thus quicker and cheaper," says Mr. Bátorfi.
The advantage is that LTE-M and NB-IoT are part of 4G and 5G technology. This means that even if 2G, 3G or 4G networks are switched off sometime in the distant future, LTE-M and NB-IoT will continue to be used. An inescapable plus of this technology is that it is not necessary to build a network - you can start very quickly and with relatively low costs.
Advantages and disadvantages of narrowband network compared to broadband 
The traditional mobile network and LPWA technologies, have some significant differences. We include narrowband (NB-IoT and LTE-M) as 4G/5G technologies, with low bandwidth, in LPWA. Broadband, or broadband connection, is usually called a standard network.  
"The most important advantage of narrowband is sensitivity. The sensitivity of NB-IoT is higher by about 10-20 dBm than broadband technologies," calculates Mr. Bátorfi and immediately adds other advantages. Sometimes we also call it "Deep Coverage", as it is possible to cover even hard-to-reach places with it. The second big advantage is the low energy consumption (5-10 years), which is a benefit especially for devices powered by batteries. 
On the contrary, the result of the limitation of narrowband technology is the narrow band, low bandwidth and lower data rate. 
When we compare broadband, narrowband and Cat-1 we find big significant differences in speed and sensitivity. LTE-M has a speed of 100-200 kb/s in real conditions, with NB-IoT it is only a few tens of kb/s. However, this is usually sufficient for most IoT applications in the field.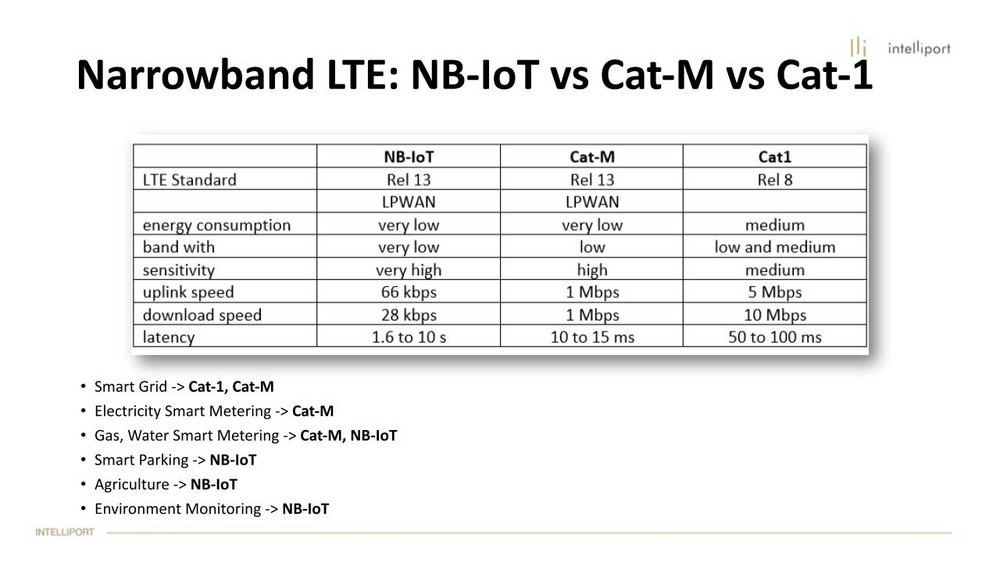 Further development of IoT solutions
As we already mentioned above, a necessary condition for the further growth and development of IoT solutions is to have products, devices and systems that are compatible with such technologies. 
Intelliport's portfolio of industrial IoT devices also consists mainly of intelligent IoT routers, gateway units or several types of sensors. The company is thus able to cover a wide range of applications across various industries.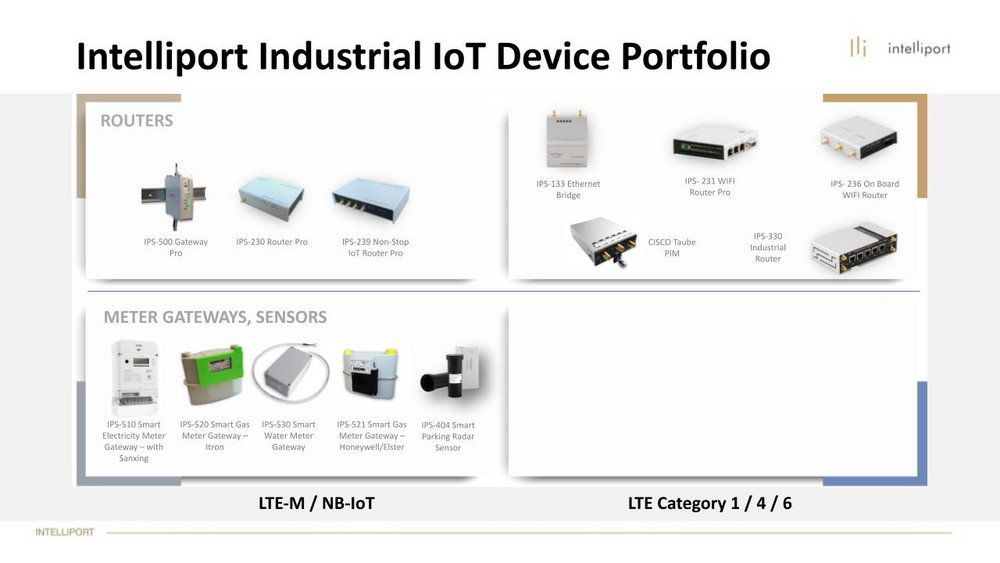 Systems management plays an important role. Part of one project can be in the order of 1000, 10 000 or even 100 000 devices in various physically hard-to-reach places. Attention must also be paid to IoT security especially nowadays, when wars take place not only in the real world, but also in the cyber world. 
Mr. Bátorfi concludes his lecture with a visionary thought: "I would like to emphasize that these are very important systems that will appear more and more in our lives, because they do not belong to the 'nice to have' category. They are absolutely necessary for us to preserve the quality of our lives and be able to continue to live in a sustainable environment." 
SOS electronic has established strong relations and long-term cooperation with Intelliport. We are glad that such an innovative and stable company has been our client since 2013. And, of course, we are proud that thanks to our high-quality electronic components the company is able to develop unique solutions that are a great success in the world.  
On behalf of SOS electronic, we would like to express great thanks to Péter Bátorfi for his presentation at the DEBATECH 2022 conference.
Do not miss these articles
Do you like our articles? Do not miss any of them! You do not have to worry about anything, we will arrange delivery to you.