The generational exchange of SUNON's DC compact axial fans brings new fans with lower power consumption and lower noise. The overall construction remains the same, and thus the transition is seamless. Find the new generation in our stock.
This is an archive article published 07/16/2020. Some information may no longer be up to date and in line with the current state. Please contact us in case of interest.
Couple of years ago, the traditional fan manufacturer SUNON began the process of generational exchange in the "DC compact axial fans" category. And we still did'nt reach the end. There are several hundreds of types of fans to be replaced.
The visual comparison won't bring significant differences:
Small details on the frame 
Small details on the arms holding the rotor
Minor changes to the construction of the blades
The overall construction (mounting, wiring) is the same, so the transition to new types is seamless.
However, performance changes are way more important:
For all types, the power consumption decreased significantly
Noise - the most of types are quieter, few types are equally noisy as before 
The airflow and pressure are higher in most cases, some models without change 
Speed - here you can find all possibilities - remained unchanged, slightly increased or slightly decreased
The manufacturer has achieved significant performance changes with minimal visual changes:

One generational exchange already happened earlier and was also associated with a radical change of Part Numbering. This time, we only need number "1" which was added to the marking.


This red 1 stands for the new generation. Find the whole Part Numbering System here.
The following table shows an example of one new series of fans with VAPO and one with Sleeve bearings: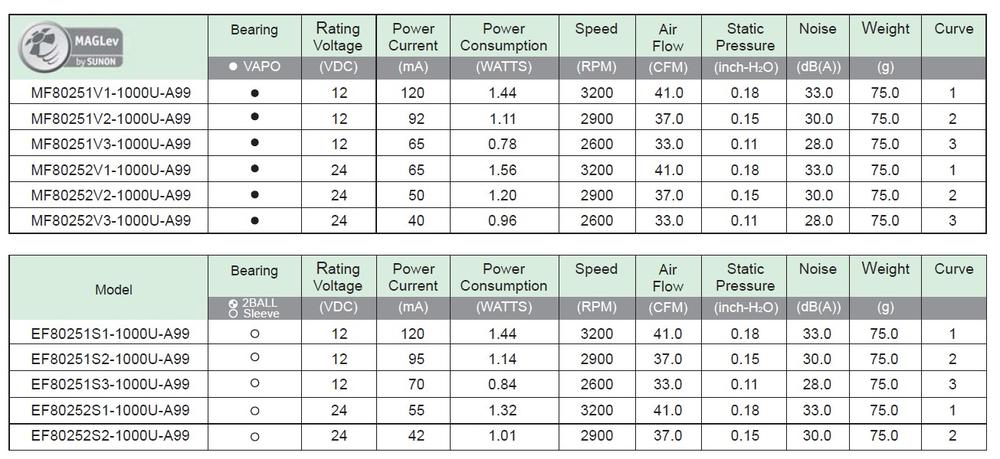 Previous-generation fans are only available while the stocks last. Find the selected new generation products directly in our stock range, others are available upon order.

See the overview of all DC axial fans in our products range.
For more information about SUNON products, please do not hesitate to contact us at sales@soselectronic.com

Do not miss these articles
Do you like our articles? Do not miss any of them! You do not have to worry about anything, we will arrange delivery to you.