DC contactor KILOVAC CAP120R by TE Connectivity is designed explicitly for 100A industrial applications where every milliamp matters. It meets the requirements of small dimensions and low weight, and at the same time it can switch up to 150 A direct current. (reading for 2 minutes)
Pavol Buhla, manager of product specialists in SOS electronic, prepared a short article about high-voltage contactor CAP120RBXNG from the Kilovac series by TE Connectivity.
Kilovac CAP120R by TE Connectivity 
TE Connectivity (TE), a world leader in connectivity and sensors, released an additional configuration of a successful high-voltage contactor from the KILOVAC series.
Latching high-voltage DC contactor switches large direct current and handles bidirectional load switching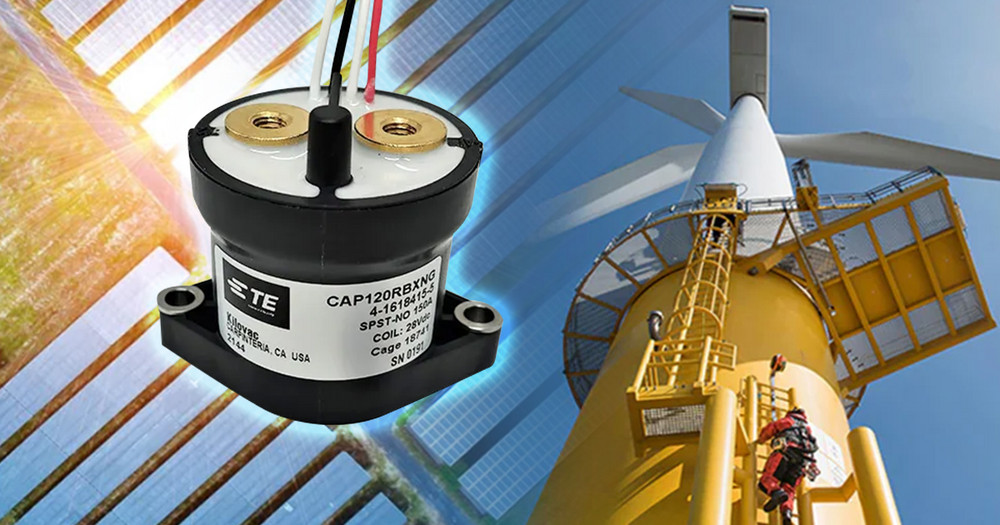 Source:TE Connectivity

The high-voltage relay, CAP120RBXNG (4-1618415-5), is ideal for commercial and military aviation and marine applications that require reduced power consumption and thus also for all industrial applications in harsh environments. It is a latching version, thanks to which we can save a lot of energy. The 150 A DC contactor also includes an auxiliary contact for low voltage, which is intended exclusively for indication purposes and with which we can display the switching status.

 

"The CAP120RBXNG high-voltage DC contactor from TE Connectivity's popular Kilovac series provides a highly versatile solution that is extremely small in size and lightweight considering its voltage and current ratings, while it is still able to handle high voltage and high current for the construction of many applications," says Pavol Buhla, SOS electronic product specialist, about this new product in our range.

 

Thanks to its efficient design, the CAP120RBXNG contactor from the TE Connectivity/Kilovac series is a reliable solution for energy distribution and storage - battery systems and solar (photovoltaic) systems. It meets the requirements for reliability in a harsh environment for long-lasting systems thanks to a light construction that can withstand high current levels. The DC contactor also allows for versatile installation due to bidirectional load switching and the main contacts are not polarity sensitive. 

Main technical features of TE KILOVAC CAP120RBXNG:
Temperature range: –40 °C to +85 °C
Main contact:

Max voltage: 600 Vdc
Max current: 150 A

Auxiliary contact:

Max voltage: 6 Vdc
Max current: 100 mA

Mechanical life (min.): 100 000 cycles
Weight (nominal): 0,14 kg
TE Kilovac CAP120RBXNG high-voltage contactor is designed specifically for harsh industrial environments. As an authorized distributor of the TE Connectivity brand, we have included this high-voltage latching DC contactor in our product range and are happy to provide it to you upon order.
Are you interested in more information on TE Connectivity products or in technical advice on choosing a suitable solution? Or do you have another question or request? Please fill out the following form, we will be happy to help you.
Do not miss these articles
Do you like our articles? Do not miss any of them! You do not have to worry about anything, we will arrange delivery to you.