Perhaps everybody knows Fastons. Less known is, that it was just the company TE Connectivity (originally AMP), which came as first with this treade mark in 1970´s, marking blade connectors, usually intended for soldering or crimping to wire leads.
This is an archive article published 06/30/2011. Some information may no longer be up to date and in line with the current state. Please contact us in case of interest.
Right after launching on the market, they gained a big popularity because of a quick assembly, quick engagement of receptacle and tab, and a long term reliable contact. Thanks to these positive features, on the market quickly appeared various modifications in various widths, most often 2.8, 4.8 and 6.3 resp. 6.35 mm, in various shapes and a possibility to use with a cable wire or into PCB. Usually it is possible to connect them to the wires with diameters AWG 26 to AWG 8. Except Fastons, also connectors type Fastin-Faston became widely used. The difference to regular Fastons is, that thanks to a locking lance on their body, they are usable in multiposition and coupling connectors, widely used in automotive industry and many other segments. They enable a simple connecting of multiple wires in a one step and plastic housings ensure a proper polarity at the same time.
No wonder, that TE Connectivity as a producer of first Fastons, offers a huge ammount of these connectors in a high quality. Besides many Faston and Fastin connectors, which we keep in stock from many producers, we also offer a type 2-0520184-2 from a line of Ultra-Fast Premier FASTON by TE connectivity. Mating area interface has dimensions 6.35 x 0.81mm a it is intended for wires AWG 22-18, 0,30-0,90 mm2. Faston 2-0520184-2 is made from a tinned brass, completely enclosed in a red translucent nylon housing with a 130°C UL temperature rating. Receptacle has been stress-relieved for increased durability. Complete encapsulation and appropriate strength of mating counterparts connection enables its usage even in close contact spacing in 600V applications. Receptacles incorporate a two-stage roll configuration and a cantilever mounted dimple, which provides easy insertion and improves tab interface resistance. Overall concept of connector ensures low insertion force and a high standard of electrical reliability at the same time. Easy wire insertion is enabled by a funnel shaped housing and the proper insertion depth ensures a wire stop. Translucent housing consequently enables a visual inspection of a crimped wire as well as of a whole engagement.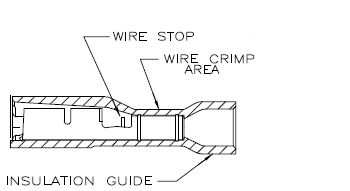 You can download a
datasheet 2-0520184-2
as well as a
dimensional drawing
and a
3D view
.
SOS electronic is an authorized distributor of TE Connectivity, thus we are able to deliver any Faston or other connector from the TE Connectivity products. For further informations about prices, delivery terms or in case of interest about samples, please contact us at
info@soselectronic.com
.
Advantages / Features:
two-stage roll configuration make connecting easier and decrease tab interface resistance

quality connection even after many engagements/ separations

material tin plated brass, fully insulated with a translucent nylon

safe usage in 600V applications, even in close contact spacing

translucent insulation enables visual inspection of the termination

flammability UL 94 V-2
Do not miss these articles
Do you like our articles? Do not miss any of them! You do not have to worry about anything, we will arrange delivery to you.