Clamp multimeter UT204 measures reliably even in real conditions of nowadays mains supplies and for an affordable price moreover.
This is an archive article published 07/24/2015. Some information may no longer be up to date and in line with the current state. Please contact us in case of interest.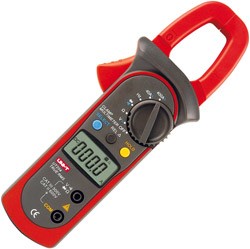 UT204
from company UNI-Trend is a near relative to the
UT203
. multimeter. Already UT203 provides a lot of user comfort and a very pleasant feature - measuring of a DC current without interrupting a measured circuit. However UT204 is different from its "weaker" brother in one essential thing - it enable measuring of a true RMS value of alternating signals (TRMS).
As we know, usual multimeters usually deploy a simple rectifier and an RC cell and they´re calibrated to show an effective value of AC voltage - supposing an ideally sinusoidal shape of a measured variable.
In many cases, a non-TRMS multimeter is fully sufficient, but still more frequently we meet devices, which by their power consumption significantly deform originally sinusoidal shape of a mains line voltage. A vast majority of new devices is equipped with switch-mode power supplies deforming a sinusoid, as they draw current for charging of input capacitors mainly on a top of a sinusoid. This situation is partially better at power supplies with a power factor correction (PFC), but even in these cases it´s never an ideal load. At any difference from an ideal sinusoid the accuracy of a common meter significantly drops down and the error can exceed tens of percents. Similar situation is also at various DC/AC inverters (for example 12VDC/230VAC), whose output is usually only an approximated sinus.
That´s why if exact measurement matters to us, it´s more certain to measure by a device equipped by a TRMS measurement. There are many types with this function on the market, and in a segment of clamp multimeters it´s for example the above mentioned UT204, which moreover offers a lot of other functionality for an excellent price.

Detailed information and comparison of UT203/ UT204 will provide you the UT204 datasheet and the UT204 datasheet and UT203-204 user guide. We keep Uni Trend UT204 as a standard - immediately available item.

In case of interest, please contact us at info@soselectronic.com.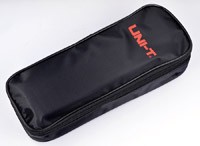 Advantages/ Features:
modern clamp multimeter with a TRMS measurement

with automatic range selection, 3999 max display reading

also measures DC current

measures U, I, Ohm, D, f

diode and continuity test

Data Hold and Rel function

robust and ergonomic construction

max jaw opening of 28 mm

power supply 9V battery 6F22 (included)
Do not miss these articles
Do you like our articles? Do not miss any of them! You do not have to worry about anything, we will arrange delivery to you.