Speaker is a key element in audio transmission. We have summarised products that play well, last a long time and do not cost much. However, don't risk your reputation and bet on the well-known Visaton brand.
This is an archive article published 08/24/2021. Some information may no longer be up to date and in line with the current state. Please contact us in case of interest.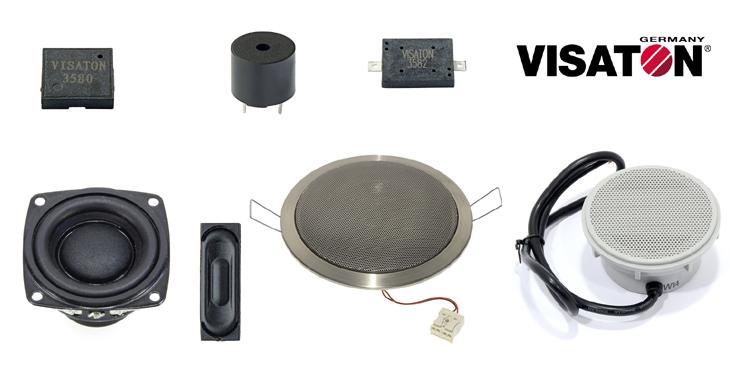 It's not long ago when it was pretty common to experience a rather poorly understandable sound in vehicles, vending machines, intercoms, and other industrial equipment.
Today, fortunately, the situation is different, and I guess everyone expects the announcements in the shopping centre to be clear, undistorted and understandable. Moreover, today's amplifiers can easily handle high power with relatively little distortion, so the only cell it depends on is the speaker.
German company Visaton has been developing and producing speakers for many decades, intended for the industry and Hi-Fi and High-End speakers. In addition to consistently high quality and long-term availability, the plus is a relatively affordable price, so there's no reason to risk the reputation of your entire device with a no-name loudspeaker.
Visaton industrial loudspeakers are commonly used in vehicles, railways, and marine (saltwater resistant types).

We're bringing you a brief overview of several interesting products in the Visaton portfolio:
BF 32S - small 3.2cm broadband speaker with a powerful neodymium magnet and balanced frequency response. With a construction depth of only 11mm, it also fits into relatively slim devices.
BF 37 - a broadband speaker with a powerful neodymium magnet and very a balanced frequency response. It is characterized by an unusually large maximum excursion of the diaphragm (±3.4mm), which guarantees above-standard low tones reproduction for such a small speaker.

K10.30 – miniature speaker (10x30 mm) for speech and signalling. With its height of 5mm, it fits even into tiny devices.

PL 7 RV  -  is an attractive industrial loudspeaker with a protective grille for quick and convenient panel mounting using a plastic nut from the rear side. It does not need mounting screws, and thus additional screw holes in the panel are not needed either. It is ideal for speech reproduction. It has high efficiency (88dB) on such a small speaker.
DL 13/2 ES – one of many Visaton ceiling mount loudspeakers. This time in stylish stainless steel design, also suitable for outdoor use. Equipped with a dual-band coaxial driver. IP 54 and wide operating temperature range -40 to + 110°C.
DPS 40 EN – loudspeaker box designed as a symmetrical dipole with significantly narrowed (focused) directional characteristics. Designed especially for railway stations etc. Very low side radiation and thus significantly eliminated echoes that impair clarity in conditions where multiple speakers are installed over a large area. High average efficiency up to 101dB.
KL 33 MK2 – ceiling-mounted 'ball', featuring one woofer and four mid-range/high-range drivers for even sound distribution in all directions. Possibility of connection to a 100V network or a common amplifier (4 Ohm).
In addition to various loudspeakers, Visaton also has piezo and electromagnetic PCB buzzers in its range with an extended temperature range from -40 to +85°C for use in all industrial areas, especially for signalling purposes.
MB 12-5V – electromagnetic buzzer for DC 5V (88dB/2300Hz)
MB 14-12V - DC 12V electromagnetic buzzer with a higher tone (80dB/4000Hz)
PB 9.9-3V – SMD piezo buzzer 9x9mm (70dB/4000Hz)
PB 9.11-5V –5V SMD piezo buzzer 9x11mm (70dB/4100Hz)
Find selected types of loudspeakers and piezo buzzers from the wide portfolio of the Visaton brand in our stock assortment.
If you are interested in any Visaton loudspeakers or need advice, don't hesitate to get in touch with us at sales@soselectronic.com.
Do not miss these articles
Do you like our articles? Do not miss any of them! You do not have to worry about anything, we will arrange delivery to you.