WAGO's miniature terminal blocks of series 2050 and 2250 from the TOPJOB S MINI family are the most compact solution for connecting thin wires on the current market. They have all the advantages of conventional terminal blocks and, in addition, offer more flexibility in finding the optimal solution, increased connection speed and a huge saving of space on the DIN rail in applications. Try a free sample. (reading for 2 minutes)

The biggest advantage of the 2-wire terminal blocks of the WAGO TOPJOB S MINI series in comparison with the older version of the WAGO 260 DIN rail terminal blocks is the push-in cage clamp technology, which makes it possible to connect the wires to the terminal block much easier, faster and reliably.
Flexibility and space-saving of the WAGO 2050 and 2250 series' terminal blocks 
WAGO 2050 and WAGO 2250 series of miniature terminal blocks are ideal for applications with limited space or where a standard DIN rail cannot be used. Comparing to standard DIN rail terminal blocks, they have a clear advantage when it comes to size. Thanks to their compact design, they save up to 60% space on the DIN rail. 
Multiple mounting options offer maximum flexibility in finding the optimal construction solution according to the requirements and type of application. They offer the option of mounting using the WAGO 209-120 mounting screw foot on a standard 35 mm DIN rail, on the device chassis or on a 15 mm DIN rail.  
"The modularity of WAGO terminal blocks allows you to put together the required number of poles, which can be distinguished by colour. In addition, miniature terminal blocks offer a simple control measurement without the need to disconnect wires," says Pavol Buhla, product specialist from SOS electronic.
Compatibility of accessories of the WAGO TOPJOB S family
WAGO terminal blocks for DIN rail of the MINI series are the smallest version of the TOPJOB® S family of terminal blocks. And since they are members of the family, all accessories are equally compatible with this MINI series:  
• jumpers and bridges – e.g. jumper for a star connection 2000-405/011-000 or a delta connection 2000-406/020-000, 
• marking strips – e.g. continuous marking strip 2009-113 that saves time and costs.
3 mounting versions of WAGO TOP JOB S MINI terminal blocks 
WAGO miniature terminal blocks are available in different versions according to the way they are attached in a specific application.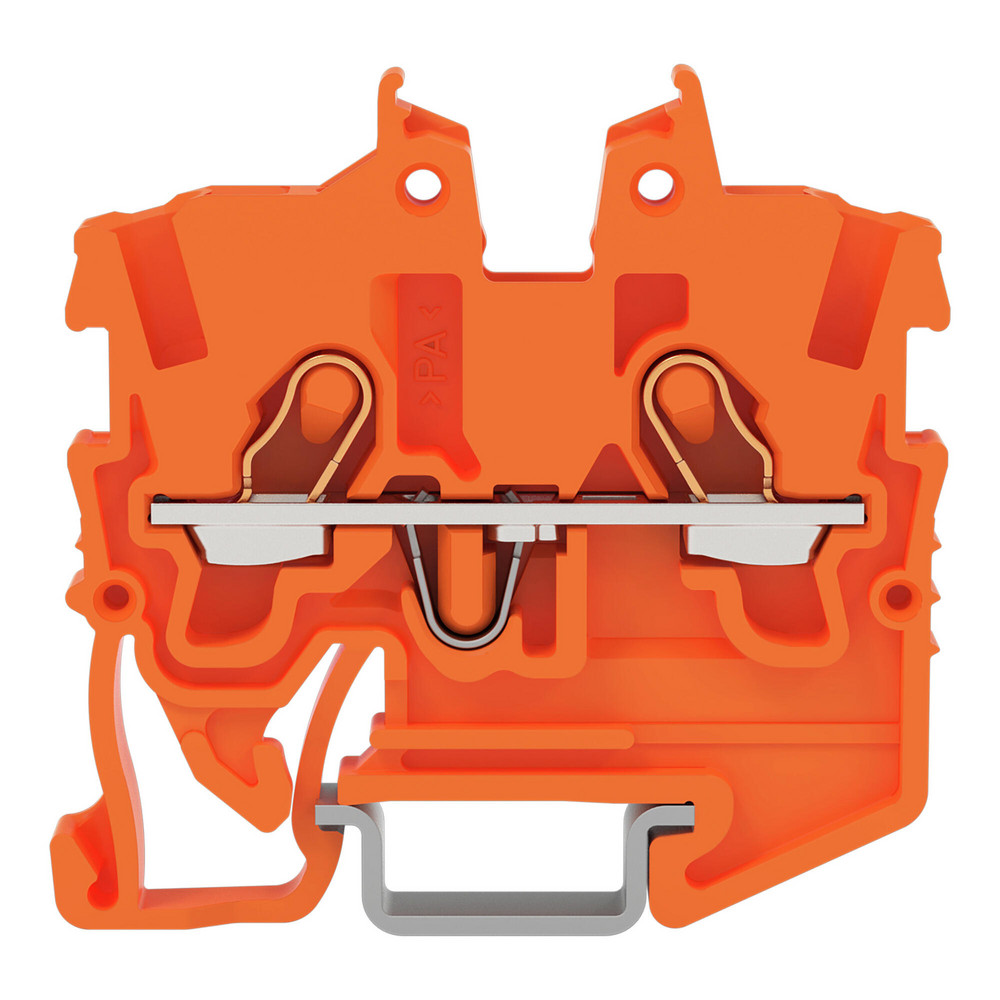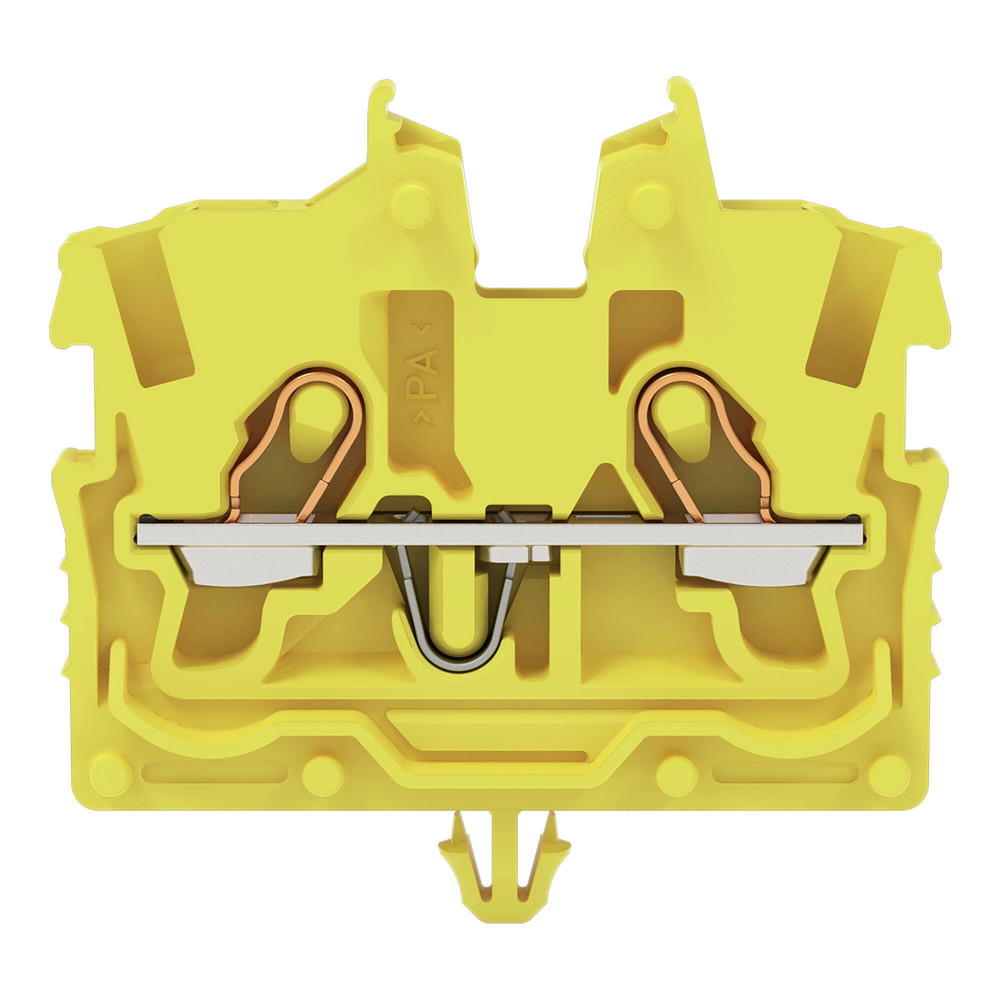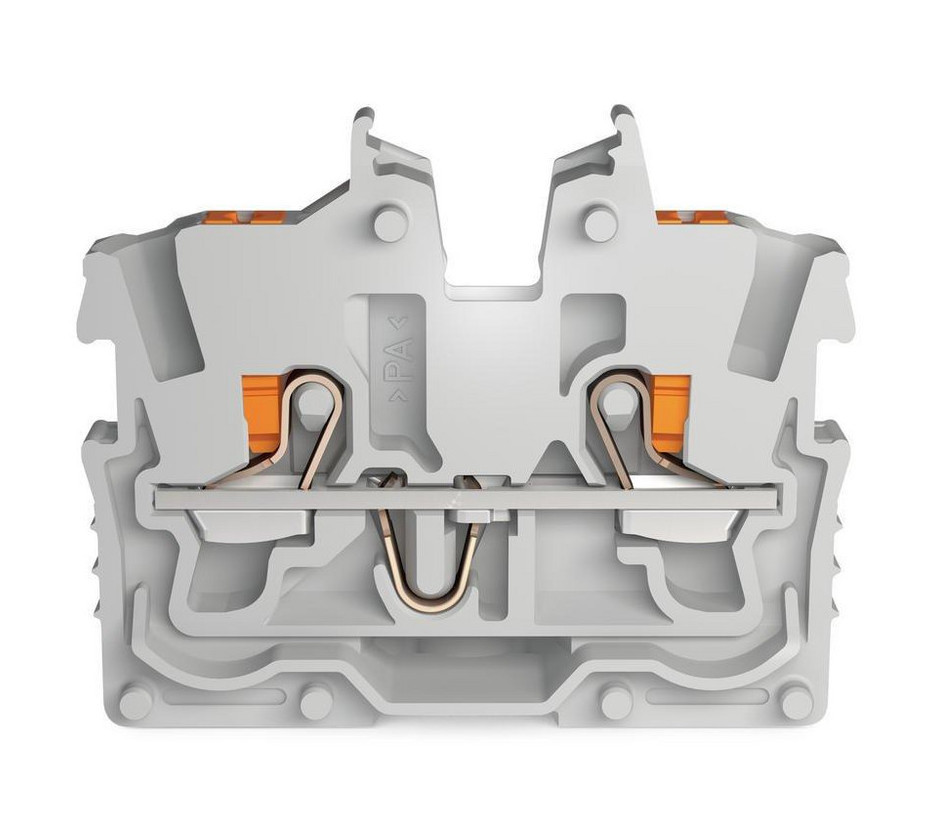 Source: WAGO 
Mounting on a 15 mm DIN rail: 
terminal blocks with or without a button
Mounting on the chassis using a snap-in foot:
terminal blocks with or without a button
thickness of mounting plate: min. 0.6 mm/max. 1.2 mm 
Mounting on the chassis using a flange and a screw:
terminal blocks with or without a button
mounting with an M4 screw
2 actuation versions of WAGO TOPJOB S MINI terminal blocks 
WAGO miniature terminal blocks are available in two versions, the 2250 series with a button and the 2050 series without a button.  
"The advantage of the WAGO 2250 version with a button is the immediate visual control of the position of the button and very simple and quick handling during assembly," 
continues Pavol Buhla.
WAGO 2250 series – WAGO MINI terminal blocks with button
any standard hand tools can be used
the orange colour of the button highlights its position and makes it easier for the user to orientate quickly
the button is a guarantee of comfortable work and easy connection even in the field 


WAGO 2050 series – WAGO MINI terminal blocks without button
the tool stays in the operating slot, leaving both hands free for wiring
after insertion, the tool shows the current position of the "work"

Source: WAGO 
Features and advantages of the WAGO TOPJOB S MINI series' of terminal blocks:  
nominal voltage: 500 V
nominal current: 13.5 A
connection technology: push-in cage clamp
nominal cross-section: 1 mm2 (min.: 0.14 mm2 – max.: 1.5 mm2)
working temperature range: from –60 °C to +105 °C
available colours: grey, blue, yellow-green, red, yellow, black, orange, brown
2 series: WAGO 2250 with button and WAGO 2050 without button
We have included a series of WAGO miniature DIN rail terminal blocks in our product range and along with accessories they are now available for all your projects. If you are interested in more information on WAGO products or technical advice on choosing a suitable product, we will gladly help you. 
Try a sample for your project
Do you need to try out a component during development? Feel free to contact us and we will be happy to provide you with a sample for the project. We assess each request individually, so please provide a brief introduction of your project in the following form.
We only provide samples for development projects, not for private use by individuals.
Thank you for your understanding.
Do not miss these articles
Do you like our articles? Do not miss any of them! You do not have to worry about anything, we will arrange delivery to you.