Perhaps the hottest this-year novelty from company Wago - 221 series terminal blocks are here.
This is an archive article published 09/02/2014. Some information may no longer be up to date and in line with the current state. Please contact us in case of interest.
Not only in flyers and datasheets, but also in reality - in our stock. That´s why we bring you their description and mainly the first pieces to evaluate.

New series 221 is based on a well-proven technology of contacts - CageClamp-S and it´s partially similar to a favorite series 222, but 221 overcomes this previous series in many ways. Overall, the 221 excels in many aspects. Judge yourself:
● it´s about 40% smaller than series 222

● it´s fully transparent from both sides, thus enables easy visual control of a proper wire insertion

● testing openings are from both sides, what enables easy testing (for example by a multimeter) at various positions in installation boxes, motors,…

● a feelingly lower force is necessary to operate the lever, in comparison to series 222

● huge range of usable diameters from smallest (0,14mm2/0,2mm2), up to 4mm2

● 32A/450V/105°C - usable for 230V and also 400V applications

● possibility to use solid, stranded and fine-stranded wires

● international approvals like ENEC, UL, PSE/JET, CQC, GOST-R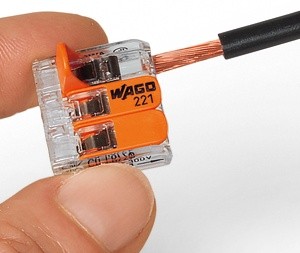 ● hollowed-out grips on the side walls for a better grip and easier manipulation during installation
● funnel-like opening for wires, enabling accurate and comfortable insertion of even mild fine-stranded wires

Similarly like series 222, even the new series 221 is available in versions for 2,3 and 5 conductors - 221-412, 221-413 and 221-415. Flat surface of actuation levers also provides additional space for labeling.

Do you know any simpler and more practical solution for any type of wire conductors?
New universal splicing connectors Wago series 221 offer unlimited possibilities of usage. They´re ideally suitable for installations in tiny spaces, connection of stranded wires with solid wires, inner connection in motors, pumps and other devices with possible vibrations.
Videos
Small and very easily applicable splicing connector from Wago.
Do not miss these articles
Do you like our articles? Do not miss any of them! You do not have to worry about anything, we will arrange delivery to you.