DIN rail terminal blocks using the CAGE CLAMP®S spring clamp bring a simpler installation even without tools and up to 30% saving of space.
This is an archive article published 01/21/2013. Some information may no longer be up to date and in line with the current state. Please contact us in case of interest.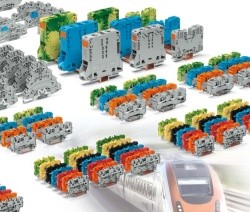 Since 1977, when company Wago launched screwless terminal blocks on the market, have the terminal blocks using this system earned a high popularity. During many years, the Cage Clamp® system proved its reliability even in most demanding environment like for example in chemical and gas industry.
In the year 2003, company Wago brought on the market an innovated version named as Cage Clamp® S, bringing up to 30% space saving and mainly enables even simpler installation of wire leads (solid wires, stranded wires, fine-stranded wires, ferruled wires). Solid wires but also ferruled stranded wires can be simply pushed-in into the terminal block without using any tools. It enables shortening of time for installation down to 50% in comparison to Cage Clamp system and down to approx. 25% in comparison to classic screw terminal blocks.

Screwless contacts Cage Clamp S can be found in a vast system of DIN-rail terminal blocks - TOPJOB S. Series TOPJOB S provides wide possibilities of usage and features many accessories like interconnecting jumpers, testing pins, fuse blocks and many other.
A comprendious overview of features and possibilities of the TOPJOB S system will provide you the TOPJOB S brochure. Directly from our stock, we´re able to provide you with selected types of TOPJOB S series. In case of interest in types, which we don´t stock, please contact us at info@soselectronic.com.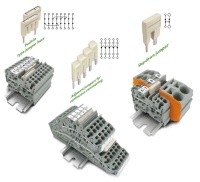 Videos
Advantages / Features:
top quality reliable system of terminal blocks

up to 75% time saving at installation

saving of space on a DIN rail

for solid and stranded wires

for 0.14-95 mm2 cross sections

possibility of installation of wire leads by simple pushing-in without any tool

wide possibilities of interconnecting, rich scale of accessories
Do not miss these articles
Do you like our articles? Do not miss any of them! You do not have to worry about anything, we will arrange delivery to you.