With the innovative generation of Inomic pliers, Wiha is heralding a new age in ergonomic pliers. Wiha has developed this revolutionary new product in collaboration with the IAO Stuttgart (Institute for Industrial Engineering).
This is an archive article published 09/09/2008. Some information may no longer be up to date and in line with the current state. Please contact us in case of interest.
Seldom have function and design been combined to such great effect as in the new Inomic pliers: they are truly unique and easily meet the highest quality criteria. The pliers are angled by 23° to enable healthy work. This is because Inomic forms an optimum Wiha Inomic The innovative generation of Inomic pliers heralds a new age in ergonomic pliers. The powerful tool that's as light as a feather. Wiha Innovation extension to the hand and arm without bending the wrist. Theuser can thus work without tiring. Thanks to the parallel movement of the arms of the pliers, all five fingers act simultaneously across the entire opening range. It is thus possible to transfer 25% more force.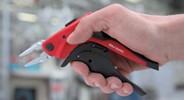 Wiha is using a new technology for the manufacture of Inomic pliers. MIM – Metal Injection Moulding – enables revolutionary new designs for the heads of the pliers. With this technology, Wiha can even manufacture complex bodies in the very highest quality with innovative jaw functions. The raw material for the complex body is a metal powder that is also used in the production of high-quality, reliable ball bearings. Extensive studies and user tests confirm: in 72% of all applications, Inomic grips, holds and cuts better.
Do not miss these articles
Do you like our articles? Do not miss any of them! You do not have to worry about anything, we will arrange delivery to you.