The new family of Winstar TFT displays marked with "Bar" has a typical elongated shape as we know it, for example, from character displays.
This is an archive article published 12/20/2016. Some information may no longer be up to date and in line with the current state. Please contact us in case of interest.
New "Bar" TFT have an ambition to replace character but mainly graphic displays that are typical for many industrial applications.

Technologically, these are still "common" TFT displays with all their pros and cons, and the only essential difference is in its shape (form factor), as their sides ration isn´t 3:2 or so but approx. 2.5:1 to 4:1.

As we know, a comprehensive full-colour graphic display is not only a "trendy" thing but it can really display (and graphically differentiate) required content and if necessary, distinguish various alert messages by colour.

The following picture illustrates the difference between the use of classic (monochrome) 240x64 px graphic display and a Bar TFT display WF52ATLB.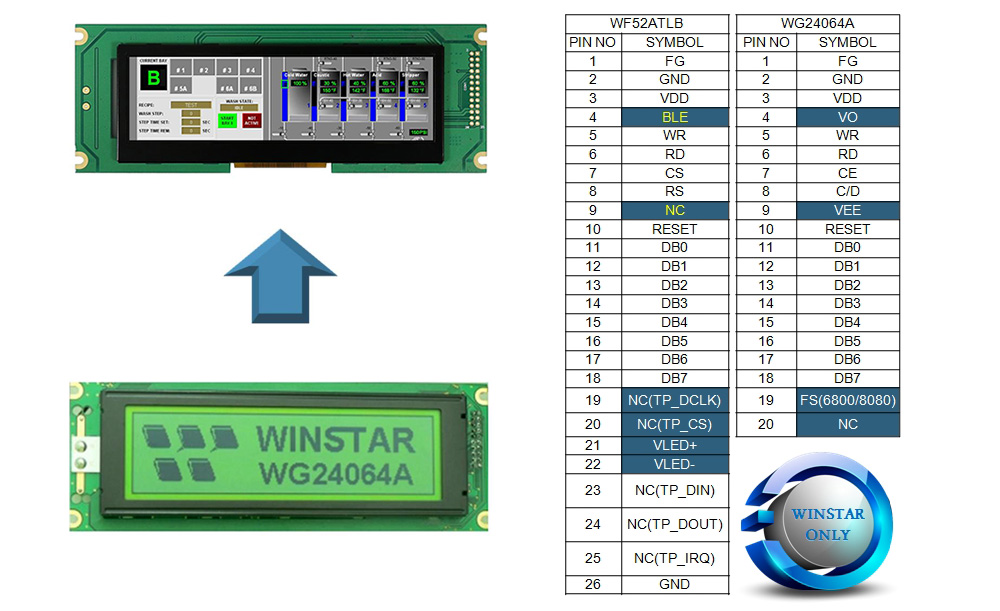 Three sizes are currently available:
- 5.2"
WF52A
(480x128 px)
- 4.6"
WF46A
(800x320 px)
- 3.9"
WF39A
(480x128 px)
WF52A is also available as a "COB" module for an easy migration from graphic to TFT display.
As can be seen, the 4.6" display has the highest resolution and thus also the highest pixels density (DPI) from this series. That´s why WF46A is also suitable for applications with high demands on quality (fine details) of the displayed content (pictures, etc.). All three models have 24 bit RGB interface (40 pin FFC connector).
Relatively higher brightness (350-500 Cd/m2) contributes to a universal use. WF52A is available without a touch panel and also with a resistive or capacitive touch panel.
In case of interest in any
display from Winstar
, please don´t hesitate to contact us at
sales@soselectronic.com
.
Advantages/ Features:
wide-angle "BAR" TFT displays

full-colour alternative for monochrome graphic displays

operating temperatures range -20 ... +70´C

available in 3.9"/ 4.6"/ 5.2" sizes
Do not miss these articles
Do you like our articles? Do not miss any of them! You do not have to worry about anything, we will arrange delivery to you.