Graphic solutions from 4D Systems are the proof, that a powerful graphic interface doesn´t have to mean big expenses and a long development time. So, give your applications the 4-th dimension!
This is an archive article published 09/29/2011. Some information may no longer be up to date and in line with the current state. Please contact us in case of interest.
Australian company 4D Systems, whose products we added into our offer, specialises in graphic solutions, which are very user-friendly and require a relatively small developing effort in order to reach very decent results.
Basis of 4D Systems graphic solutions represent two powerful chips - Goldelox and Picaso. Chips contain graphic processor, memory and interface for common LCD and OLED displays, and - depending on the type – also a support for a touch panel. Graphic chips and modules with these chips represent a powerful and user friendly platform for creation of graphic interface to a wide range of devices.
A common feature of both chips is, that they can be reconfigured into a slave graphic chip mode with a serial interface – SGC (slave graphics controller) - – for a work with the host microcontroller, or into a stand-alone graphic processor mode – GFX (stand alone host graphics controller). It is possible to change these chip features anytime by a simple reloading of free configuration file.
Goldelox - is a low cost chip supporting a powerful graphics, text, pictures, animations, macros and other. It can be used with a simple serial interface for a work with a microcontroller (SGC version) or as a stand-alone graphic processor (GFX version). It can work with many usual series "80" LCD and OLED displays, with 8 bit interface. Chip can generate a sound, supports SD cards through SPI interface and many other.
Picaso – is more powerful in comparison to Goldelox chip, with larger possibilities and up to 16 universal I/O pins. Similarly like Goldelox, also Picaso can be used in an SGC or GFX configuration. It supports a 4 wire touch panel and is suitable even for displays with bigger resolution. Picaso contains a hardware and software support for high-capacity SD-HC cards with capacity over 4 GB. That´s why, on these storage devices it is possible to store a program itself, but also a big ammount of graphics, pictures, animations and macros. Picaso also contains a powerful sound generation.
Probably the most important feature of both chips from 4D Systems is, that they can be relatively very simply programmed in their own graphic language 4DGL, which is syntax-similar to C or C++ language. The language is user-friendly and relatively very easy to learn. The biggest advantage of 4DGL language is that the program written in this language is usable with both these chips and mainly, it is usable for various displays.

On the basis of Goldelox and Picaso processors the graphic modules with LCD and OLED displays are designed. Excellent properties of these processors can be in a full range used also at these modules – i.e. every module can be reconfigured into a slave or a stand-alone mode. The same as at chips themselves – the same program can be used for various modules. For a customer this also means, that when he decides for a certain kind of module, and this one will be discontinued after some years, customer can easily use the same program on a new module type – without a long-time and expensive rewriting a program to a new platform. This is convenient also in the case, if you find after a successful development that for your application some other type of display would be more suitable than the one which was used in a prototype. In this case again you don´t have to worry and you can easily use the same program..
For a development support, company 4D Systems provides free programs like 4D-Workshop3 IDE and application examples in the 4DGL language.

In case of interest about 4D Systems products please contact us at info@soselectronic.com.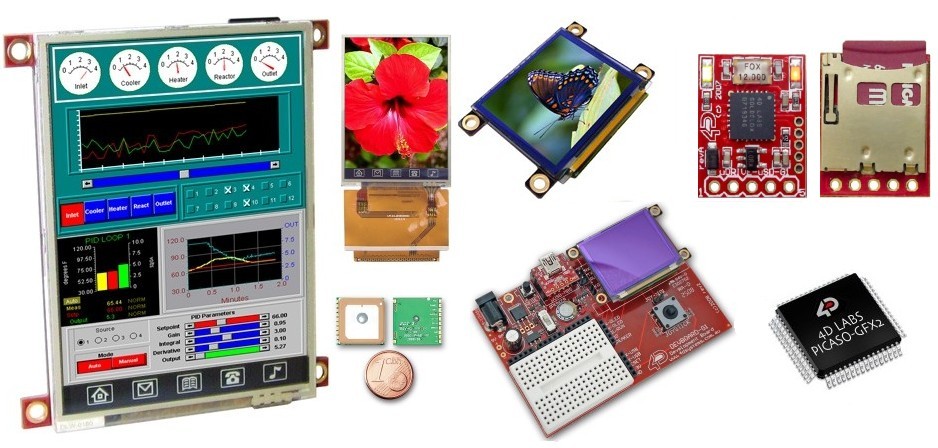 Advantages / Features of 4D graphic solutions:
powerful graphic chips

complete modules with LCD or OLED

usable as stand-alone or as slave modules

user-friendly 4DGL programming language

the same program can be used on various modules

large development support

excellent price/ performance ratio
Do not miss these articles
Do you like our articles? Do not miss any of them! You do not have to worry about anything, we will arrange delivery to you.