The question was answered during the workshop organized by SOS electronic, Microsoft Slovakia and AAEON. It is easy.
This is an archive article published 01/27/2019. Some information may no longer be up to date and in line with the current state. Please contact us in case of interest.
We have wanted to present the benefits of Windows 10 IoT Enterprise LTSB operating system and test it along with AAEON, Sensirion and Apacer products. During the creation of IoT solutions, participants could use MS Azure cloud services. (instructions below)

During the training, we used the Aaeon industrial PC Boxer-6404U, single board computer PICO-APL3. Testing kits from Sensirion for temperature, humidity and CO2 concentration measurement and industrial SSD from Apacer. For embedded devices, we used the Microsoft operating system (Windows 10 IoT Enterprise LTSB 2016).

Software part of the workshop was led by Marek Láni from Microsoft Slovakia. He started to create the NET application, which reads the measured values from the sensors via the SEK sensor bridge and sent them to the MS Azure cloud service IoT Hub cloud for processing. The data was analyzed by Stream Analytics, which generated an alarm when the CO2 concentration was exceeded. Alarm was processed by Event Hub which sent a command to turn on the alarm signaling connection to industrial PCs to SBCs.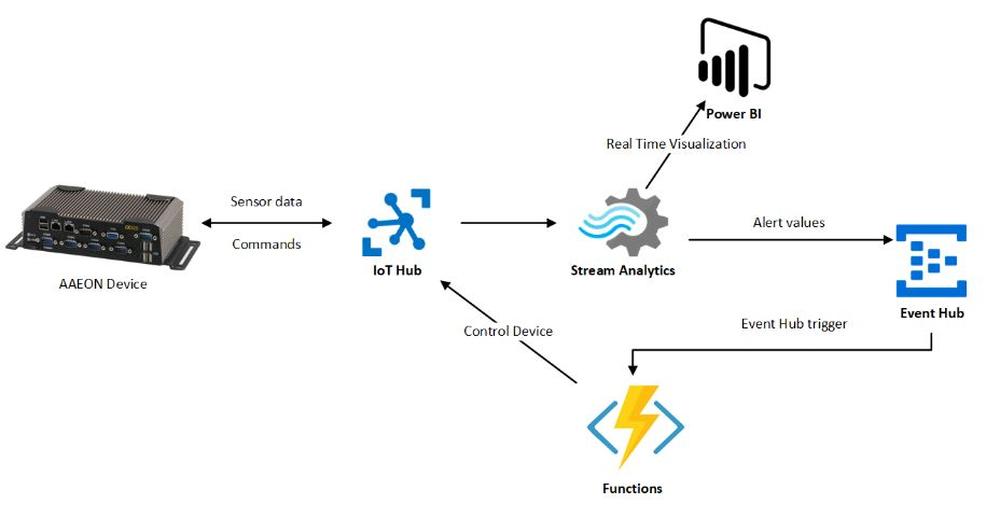 Was this interesting for you? You can try it out.
We have a detailed description of the solution for you.
We also offer some
interesting information about MS cloude Azure:
The short report about the workshop was shot by TV Bratislava. If you missed the broadcast, you can also watch the video on our YouTube channel.
Videos
How to Create a Complex IoT Solution Within Few Hours? We asnwered the question and also demonstrated it during the workshop organized with cooperation of Microsoft Slovakia, AAEON and SOS electronic.
Do not miss these articles
Do you like our articles? Do not miss any of them! You do not have to worry about anything, we will arrange delivery to you.