Wiznet comes up with W5100S-EVB-Pico Evaluation Board - a new compact and very cost-effective development platform which is based on the Raspberry Pi RP2040 microcontroller.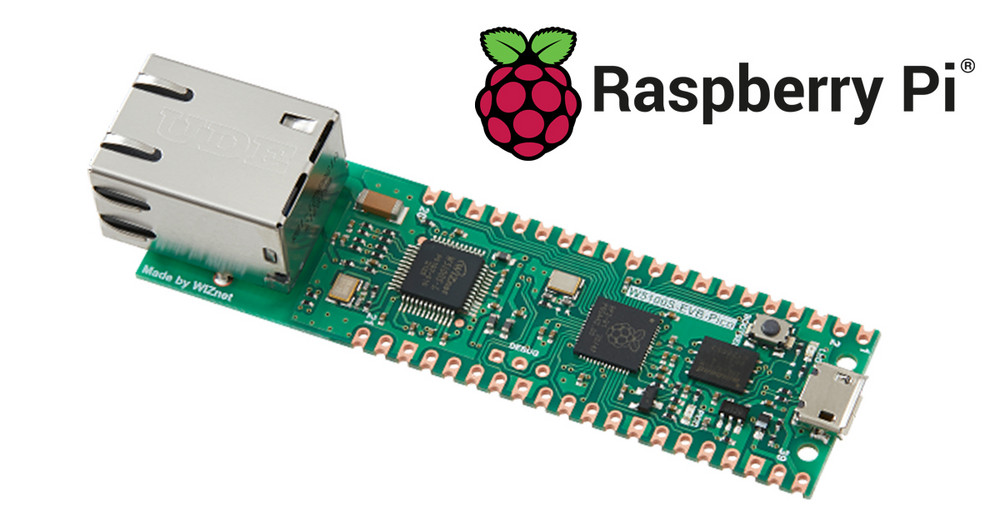 Pavel Kováč, SOS electronic product specialist
, has summarized the most important information, including the main reasons why you should definitely not overlook this product.
5 reasons to reach for the W5100S-EVB-Pico:
Ready2use solution for IoT applications.
It contains Raspberry Pi RP2040 microcontroller. 
Excellent quality/price ratio. 
The basis is the W5100 chip for connection to the Ethernet network.
Low consumption.

The 133MHz RP2040 MCU has a dual ARM® Cortex®-M0 + core providing high performance also with using various low-power modes to support operation from battery power. The RP2040 is also equipped with 2MB Flash memory on a chip, a symmetric dual-core processor, a deterministic bus fabric and a rich set of peripherals, enhanced by an RPi programmable I/O subsystem.

The W5100S-EVB-Pico development kit from WIZnet can work in the same way as the Raspberry Pi Pico and it additionally includes the W5100S TCP/IP chip. It supports Ethernet cable connection via Media Access Control (MAC), 10Base-T / 100Base-TX Ethernet PHY and is a single-chip solution for the TCP/IP Internet protocol.
It provides an easy way to extend the Internet connection for efficient and small embedded systems with the help of the RP2040 MCU and W5100S TCP/IP controller.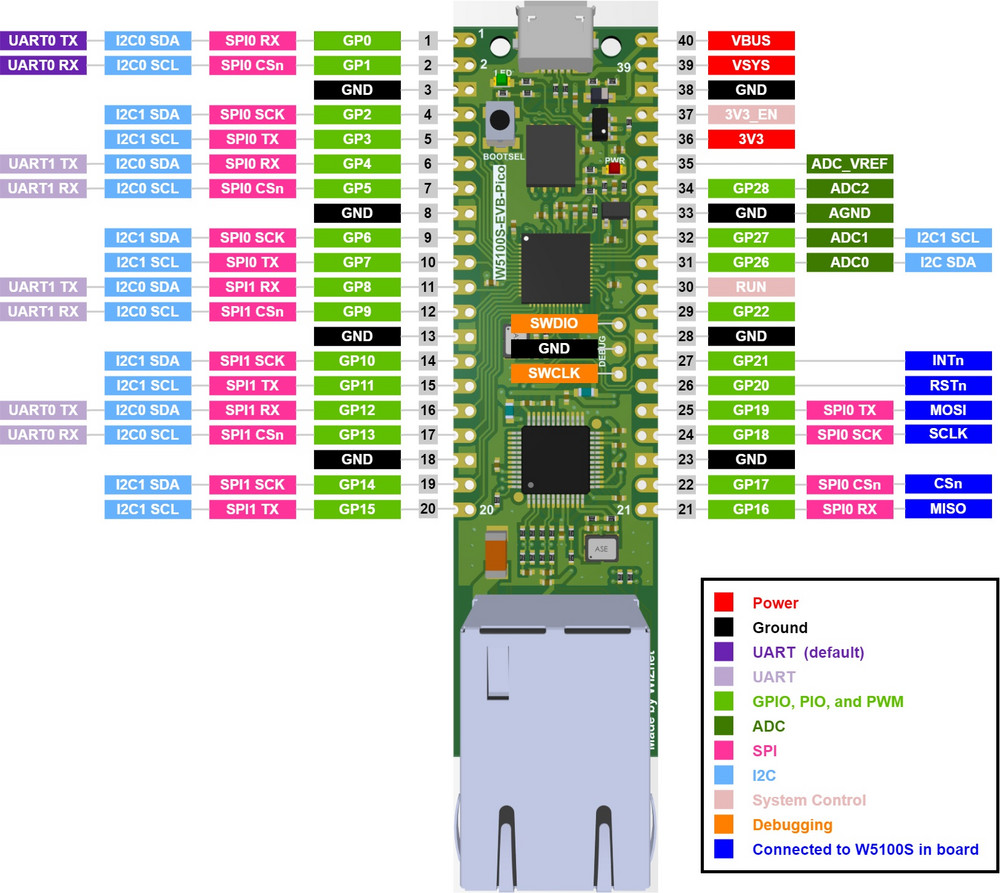 Key features of W5100S-EVB-Pico:


RP2040 microcontroller with 2 MB Flash:
- dual-core Cortex M0+ with a clock frequency of up to 133 MHz,
- 264 kByte high performance SRAM,
- external Quad-SPI Flash with eXecute In Place (XIP),
- high performance full-crossbar bus fabric
- 30 multifunctional IO for general purpose (4 could be used for ADC),
- 1,8 - 3,3 VDC IO voltage (Note: Pico IO voltage is set to 3,3 V),
- 12-bit analog-to-digital converter 500 ksps/s (ADC).
Various digital peripherals:
- 2 × UART, 2 × I2C, 2 × SPI, 16 × PWM channels,
- 1 × timer + 4 alarms, 1 × RTC,
- 2 × programmable IO (PIO) blocks, 8 state machines in total,
- flexible, user-programmable high-speed IO
- can emulate interfaces such as SD card and VGA.
- supports hardwired Internet protocols: TCP, UDP, WOL through UDP, ICMP, IGMPv1/v2, IPv4, ARP, PPPoE,
- supports 4 independent hardware sockets simultaneously,
- internal memory 16 kB for TX/RX buffers,
- SPI interface,
- embedded 10/100 Ethernet PHY,
- supports automatic handshaking,
- full / half duplex 10/100 Based.
- Micro-USB B port for power and data (and for Flash reprogramming),
- 40-pin 21×51 DIP enclosure with a thickness of 1 mm PCB with 0.1 ″ pins with through holes and with edge castellations,
- 3-pin ARM Serial Wire Debug (SWD) port,
- built-in RJ45 (RB1-125BAG1A) connector,
- built-in LDO (LM8805SF5-33V).
You will find the W5100S-EVB-Pico Evaluation Board from WIZnet in our stock range.
For more information about the module, including the price and current availability, check our website or do not hesitate to contact us at sales@soselectronic.com.
Do not miss these articles
Do you like our articles? Do not miss any of them! You do not have to worry about anything, we will arrange delivery to you.