Using the XT-Pico-USB module you can in a simple way control your device through LAN, or your device can become available from any place in the net by a virtual USB interface.
This is an archive article published 07/22/2011. Some information may no longer be up to date and in line with the current state. Please contact us in case of interest.
To have a device available in LAN brings many advantages: originally a local device is possible to control or read remotely. A device, which was available only from one place, often only from one PC, will become available to a wider group of people. At an appropriate assecuration is then available through internet from all over the World.
Embedded module XT-Pico-USB is designed for a direct connection of microcontroller, HUB controller or USB device. It enables to integrate into the LAN any device using USB interface, for example faxes, cameras, scanners, webcams, printers, HDDs, barcode and RFID readers, measuring devices, sensors and industrial machines.
Xt-Pico-USB supports USB2.0 and it is USB1.1 compatible and through USB HUB it is possible to connect up to four devices. Ethernet is 10/100Mbit and all commonly used protocols are supported: IP, TCP, UDP, ICMP, ARP, LPR, DHCP, BOOTP, HTML, HTTP. The module contains a transformer, so RJ45 connector is possible to connect directly. By connecting an appropriate simple circuit, it is possible to supply the module by a Power over Ethernet technology.

Datasheet XT-Pico-USB contains detailed informations and in the design guide you can find next useful notes and schematics. In case of interest please contact us at info@soselectronic.com.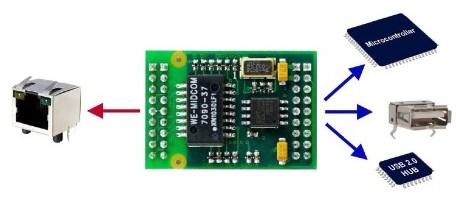 Advantages / Features:
a simple way of integrating a device with USB port into LAN, thus available through ethernet from all over the world

controlling from PC by a virtual USB interface

USB 2.0/ 1.1 compatible

10/100 Mbit ethernet, RJ45

protocols IP, TCP, UDP, ICMP, ARP, LPR, DHCP, BOOTP, HTML, HTTP

power supply 3,3V/110 mA a 1,8V/120 mA

possibility to supply through Power over Ethernet (PoE)

temperature range -10 to +70°C

dimensions only 22 x 32 mm
Do not miss these articles
Do you like our articles? Do not miss any of them! You do not have to worry about anything, we will arrange delivery to you.