In a short interview, you will learn about the current smallest solution for 2 Nano SIM cards on the market, which will save you 50% of space on PCB while maintaining the reliability, comfort and technical requirements of the application.
Pavol Buhla, manager of the SOS electronic product specialists' department, answers our questions about the revolutionary design of the 115U-B100 socket for two Nano SIM cards produced by Attend.
At first glance, the Nano SIM card socket looks like a simple component. Would you please explain the main essence of this new product by Attend?
Certainly. You will surely agree with me that the analogy of "as big as a football stadium" or "as large as two football stadiums" is often used to give a better idea of the size of the area. Now imagine two football stadiums joined with grass roots; artificial grass probably has no roots, but let's forget about that for now. Attend, a Taiwanese manufacturer of SIM card sockets came up with a solution based on this principle. 
All right. Can we now explain it more technically on a specific product?
Imagine two Nano SIM cards, attached to each other by those imaginary "grass roots in stadiums". By placing two cards in this way, we save half the area on the PCB compared to their usual side-by-side position. I believe this extra free space will make every electronics manufacturer happy.

Sure, it will probably be its biggest benefit. But not the only one, right? 
Absolutely. The Attend 115U-B100 Nano SIM card socket offers device manufacturers much more.
Since it is a so-called "Tray push-push" version, it means that the socket contains a removable tray 115U-T003 that needs be ordered separately. You can thus comfortably insert one SIM on one side, the other SIM card on the other side of the tray and push it into the holder mounted on the PCB by surface mounting. The "Push-push" system means that one push locks the tray in the holder and by pushing it again it gets released and can be easily pulled out.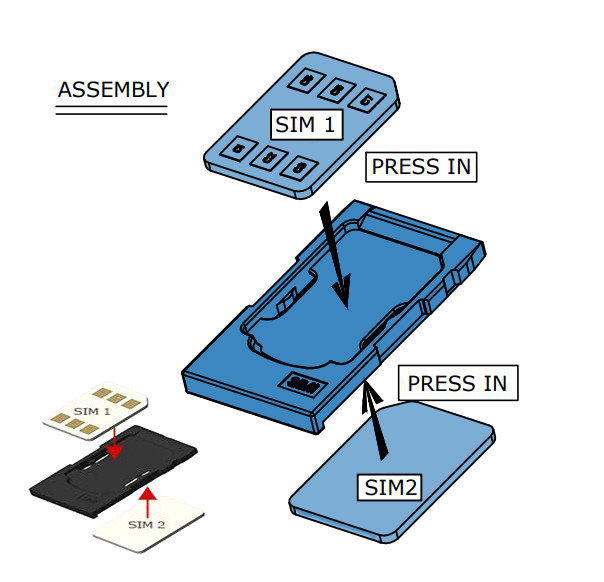 The benefit of this solution is also that the tray contains a flexible element in place designed for the card, which securely holds the card in its position. The tray itself is shaped in a way that it cannot be inserted the other way around. The number of contacts 2 x 6 plus the contacts for detecting the presence of cards also recognize the empty inserted tray without cards.
Of course, this unique tray holder assembly has been tested and met the requirements for shock and vibration resistance, making it suitable for applications in almost all areas of industry. In addition, the manufacturer Attend can produce other dimensions of the tray upon request in case the whole socket needs to be placed further from the edge of the printed circuit board for some reasons.
It is a really handy solution for storing two Nano SIM cards. Where do you see its potential?
There are really many opportunities. It is especially suitable for those devices that need to be connected to the network of mobile operators and cross state borders or territory covered by a specific operator, but also devices for vehicle tracking, fleet management, V2X (Vehicle-to-everything) devices – bike-sharing, gateway, radio receivers via the Internet. It will also be certainly appreciated by manufacturers of computers for motor vehicles or Smartmetering equipment. However, as I have already mentioned, the space saved on the PCB will probably please every electronics manufacturer.
Which three features or benefits do you think are most important to our customers?
Let me briefly summarize. In my opinion, it is a practical push-push system with a tray, a significant saving of space on the PCB and a security element to secure the Nano SIM cards and the tray in the device. However, I would add one more advantage, and that is the possibility of agreeing with the manufacturer on adapting the size of the tray as per the specific requirements of the device.
Finally, I would like to mention that we have included the socket for two Nano-SIM cards 115U-B100 and the associated tray type 115U-T003 from ATTEND in our product range. You can find more technical information in the datasheet directly on our website.
We will be happy to answer your questions at sales@soselectronic.com
Videos
What do football stadiums have in common with a socket for 2 nano-SIM cards? Watch the video about an interesting solution, reliability, comfort, and benefits of Attend sockets
Do not miss these articles
Do you like our articles? Do not miss any of them! You do not have to worry about anything, we will arrange delivery to you.