If prices of thermal imaging cameras seem to you to be high, but you´d like to take advantage of a graphic temperature displaying, then the TG165 is the right device for you for only 299EUR and limited time. Do not hesitate, this price is valid only in October!
This is an archive article published 10/08/2015. Some information may no longer be up to date and in line with the current state. Please contact us in case of interest.
Now for only 299EUR and limited time. Do not hesitate, this price is valid only in October!
Infrared thermometer or infrared camera? A typical dilemma, which device to choose can be solved very simply - by a purchase of imaging thermometer Flir TG165!
Thermal imaging camera is a great thing for various industrial segments, as we described to you for example in our article
"Even hidden faults can be found with FLIR thermal cameras"
. Perhaps the only disadvantage of quality thermal cameras are their prices. Especially for a casual usage perhaps majority of us will consider the 1000+ EURO investment for such a device.
The price of this perfect device now dropped to 299EUR!
A good job can be also done by an IR thermometer but by its usage we´re missing a unique feature of visual imaging of a temperature distribution in a given device. In reality perhaps nobody is able to make for example 3600 measurements ( 60x60px) within few seconds and consequently to make an idea how it looks with a temperature in a given device.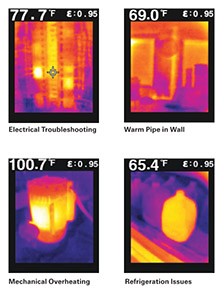 From this point of view - the novelty of company Flir –
TG165
is a unique device intended for everyone, who wants to have a visual idea about temperature for an affordable price. TG165 is a combination of a quality IR "point" thermometer (24:1) with an IR camera with a new Flir "LeptonR" chip.
Without a useless "going around" it can be straightly said, that the imaging functionality of TG165 has a fix-set range and that it´s not possible to exactly determine temperature from a displayed image (except a middle of the image, where it is measured exactly by a central thermometer). However, usually in praxis it doesn´t matter at all, because such imaging is sufficient to discover warmer/ colder places and consequently - it´s possible to focus a center of a measured field on a given "suspected" place.
In result, we get a device, which is in praxis fully usable for a visual inspection of distribution boxes, motors, compressors, PCBs and other for a roughly half price of a usual thermal camera.
Also beneficial is a double (diverging) laser, which visually shows a measured area - independently of a distance from a measured object. Professional construction and a sturdy construction is also underlined by a fact, that the device is designed to withstand a fall from a 2m height.
Videos
Tool with excellent price/ performance ratio suitable for many industry segments.
Advantages/ Features:
exquisite tool combining advantages of an IR thermometer and the thermal imaging for a ½ price

IR thermometer 24:1 with 0,1°C resolution

-25...+380´C, adjustable emissivity

dual laser for exact marking of a measured area

micro IR chip LeptonR 80x60px with upper imaging range 127´C

storing of data to a uSD card (8GB, included) + USB transfer

tripod mount thread
Do not miss these articles
Do you like our articles? Do not miss any of them! You do not have to worry about anything, we will arrange delivery to you.