Calibrated humidity and temperature sensors Sensirion SHT21, SHT25 and STS21 excel by very small dimensions. Thanks to their miniature size and a very low power consumption, you can use them even in small portable devices.
This is an archive article published 10/19/2011. Some information may no longer be up to date and in line with the current state. Please contact us in case of interest.
Sensors SHT21, SHT25 and STS21 with I2C digital output belong to the SHT product line, with the CMOSens technology of swiss company Sensirion. SHT21 and SHT25 measure relative humdity and temperature, STS21 measure only temperature. With a new CMOSens chip, reworked capacitive type humidity sensor and the improved band-gap temperature sensor they feature excellent properties. They have very similar and in some aspects even better properties than SHT1x and SHT7x sensors. Also these sensors belong to high quality CMOS sensors, which contain all elements of the measuring chain on one chip: humidity and temperature sensor, precise supply, low noise linear amplifier, AD converter and interface. Despite of very compact dimensions also SHT21 and 25 sensors remain resolution of 12 bits for relative humidity and 14 bits for temperature. Temperature sensor STS21 has also a 14 bit resolution and a user can choose by a command the resolution of 14, 13, 12 or 11 bits.
I2C interface enables a very simple communication with a host microcontroller, in a Hold/ No Hold Master mode. Defaultly sensors have the same I2C adress set from production. Upon request it is possible to provide sensors with various adresses from producer. STS21 is fully compatible with SHT2x but it has a different I2C address. This enables to use sensor STS21 in applications where humidity measurment is optional and enables to use the same hardware.
In regard to a fact that these sensors are calibrated from production, they are suitable for very precise temperature and relative humidity measurments, or also a dew point calculation. In comparison to SHT21, SHT25 has a higher accuracy and it is suitable even for very demanding applications. Moreover SHT25 keeps its outstanding accuracy of relative humidity measurment also in a wide temperature range. STS21 offers excellent accuracy of temperature measurment at a very competitive price.
Price of these sensors is very affordable, when we realize, that these sensors represent a complete calibrated solution with the digital output, high reliability and a long life. Besides a direct costs saving, with the Sensirion sensors you gain also an essential shortening of development time in comparison to a solution from discrete components. In the DFN package with dimensions only 3,0 x 3,0 x 1,1mm they belong to the world-wide smallest complete solutions for humidity and temperature measurment in one component.
It is possible to use the SF2 filterfor protection of the sensor against dirt and droplets. Detailed information will provide you the SHT21, SHT25 and STS21 datasheets. For development support also EK-H4 and EK-H5 evaluation kits are available.

For further information about Sensirion products, please contact us at info@soselectronic.com.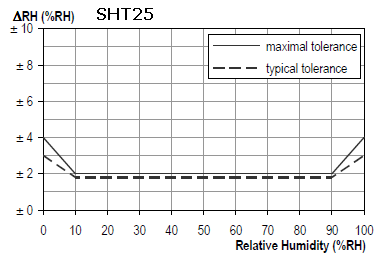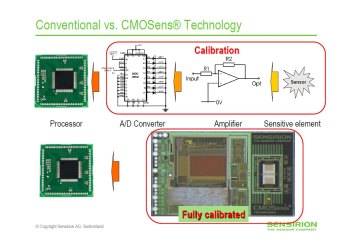 Advantages / Features:
relative humidity and temperature measurment in one component

individually calibrated in a precise humidity chamber

extremely compact dimensions 3 x 3 x 1,1 mm

digital outpt with I2C interface (Hold/No Hold Master)

outstanding reliability and long-term stability

12 bit resolution for relative humidity and 14 bits for temperature

measuring range 0-100% RH,-40 to +125 °C

average consumption only 3.2 uW at 1 measurement per sec/8 bit/RH (SHT2x)

average consumption only 3.2 uW at 1 measurement per sec/11 bit/Temp. (STS21)

insensitivity to external disturbances (EMC)

SMT package DFN3-0, reflow solderable
Do not miss these articles
Do you like our articles? Do not miss any of them! You do not have to worry about anything, we will arrange delivery to you.