Complete digital temperature sensor Sensirion STS21 provides a top-level accuracy and stability for a very affordable price.
This is an archive article published 04/11/2014. Some information may no longer be up to date and in line with the current state. Please contact us in case of interest.
Digital sensor STS21 s the newest member of calibrated humidity and temperature sensors family SHT2x (SHT21, SHT25). In opposite to them, STS21 is able to measure only temperature, i.e. it´s suitable only for applications, where we don´t need to measure humidity. However a smaller functionality has also a significant positive aspect in a form of a substantially lower price. STS21 contains on a chip, similarly like its familiar, a temperature sensor, precise supply, low noise linear amplifier, AD converter and a serial interface with I2C output (fixed address different from SHT series).
Basic accuracy of STS21 in the 0 to +60°C temperature range is +-0.2°C. The user can choose a resolution for measuring and it can be 11-14 bits (up to 0,01°C). Despite the fact, that the sensor hasn´t guaranteed absolute accuracy of 0.01°C, such a high resolution can be beneficial for example for monitoring of a tendency (increasing/ decreasing) of temperature.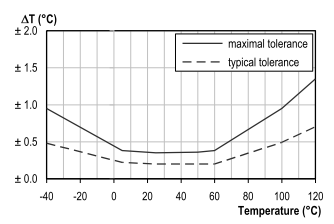 Advantages/ Features:
calibrated temperature sensor

extremely compact dimensions 3 x 3 x 1,1 mm

digital outpt with I2C interface (Hold/No Hold Master)

outstanding reliability and long-term stability

14 bit resolution (user selectable 11-14 bit)

extremely low power consumption

insensitivity to external disturbances (EMC)

SMT package DFN3-0, reflow solderable
Do not miss these articles
Do you like our articles? Do not miss any of them! You do not have to worry about anything, we will arrange delivery to you.