The Wago company is back with an attractive spring promotion. Buy the set of Wago splicing connectors and get the professional QUICKSTRIP Vario stripping pliers at an extremely affordable price. Do not hesitate and take advantage of this limited offer valid while supplies last. (reading for 1 minute)
Wago splicing connectors – patented solution for all types of conductors
Over the years, splicing connectors of the German brand Wago have become the world's most wanted product in the field of electrical installation and have thus reached the position of an absolute standard.
Why? The answer is very simple. Wago splicing connectors could be used for a wide range of conductor cross-sections and all types of conductors – from solid to fine wire. The patented lever and lever-less design of the connectors allows for quick and convenient insertion, attachment and, of course, disconnection of the conductor. Not to mention their compact design and transparency, which allows you to easily check if the wires are connected correctly.
Do you use Wago connectors regularly, or are you just considering their purchase? As an authorized distributor of Wago products, we bring you a special offer on the most used cable connectors which now come with practical stripping pliers.
Spring 2023 – Promo Profiset: 675pcs of Wago connectors + Quickstrip Vario stripping pliers 
Buy one set of Wago 887-1007 installation splicing connectors and get one piece of professional QUICKSTRIP Vario 0.03-16 mm2 stripping pliers under favourable conditions. They offer a 2 in 1 solution, stripping the conductor and cutting the cable itself. This set is a practical and ideal solution from one manufacturer.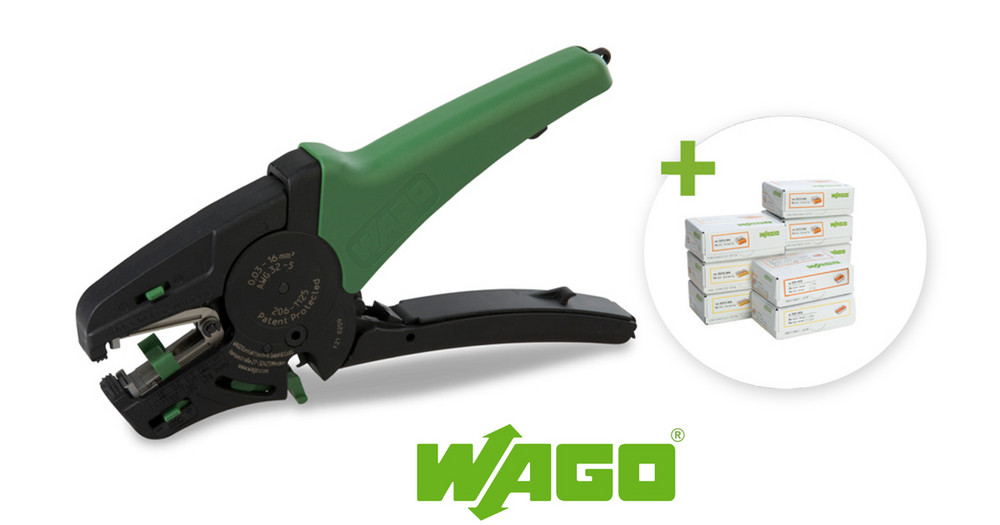 The Wago 887-1007 profiset includes 675pcs of installation splicing connectors: 
Order nr. 389599
Take advantage of this unique opportunity, the offer of 887-1007 Wago splicing connectors with stripping pliers is valid only while stocks last. 
Are you interested in more information on Wago products or technical advice when choosing a product? Or do you have another question or request? It is simple. Fill out the following form, we will be happy to help you.
Do not miss these articles
Do you like our articles? Do not miss any of them! You do not have to worry about anything, we will arrange delivery to you.