Intel Core i3-6100U mobile processor and two Aaeon AI Core X modules provide enough computing power for your AI application. Check our unboxing video with BOXER-8320AI.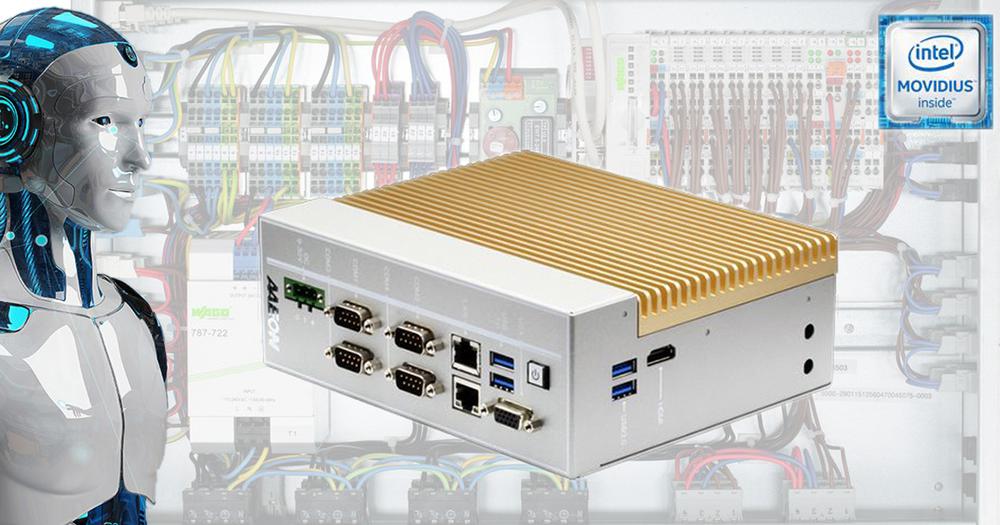 BOXER-8320AI
is a compact AI@Edge fanless computer designed for mounting on a
35mm DIN rail
.
It can work in an environment with an ambient temperature range from -25 to 60°C with 0.5 m/s airflow, which is easily created by natural convection inside the electrical switchgear in which the computer is mounted.
Processor, RAM and Storage
BOXER-8320AI is based on Intel Core i3-6100U mobile processor and two Aaeon AI Core X modules.
It provides one DDR4 SO-DIMM for RAM memory module up to 16GB, and max. speed 2133MT/s and SATA 3 interface for 2.5" SSD/HDD. If you use the HDD, you will definitely appreciate the included anti-vibration mounting kit.
Interfaces and Extensions Slots
2 GbE ports 
4 RS232/422/485 ports configurable in BIOS
4 USB 3.2 Gen 1 
HDMI and VGA
BOXER has no free expansion slots; AI Core X modules occupy both mPCIe slots. The enclosure contains two holes for the SMA/RP-SMA antenna connectors protected by a removable cover.
Solid Thermal Design
BOXER-8320AI has a massive heatsink that dissipates heat from the processor and power supply components on the bottom side of the mainboard and from heatsinks/heat spreaders of the AI Core X module RAM, Ethernet chip, a power supply components on the top side of the mainboard. The second AI Core X module is cooled through a heat spreader attached to the top cover of the enclosure.
This design allows BOXER-8320AI to operate in conditions from -25°C to 60°C.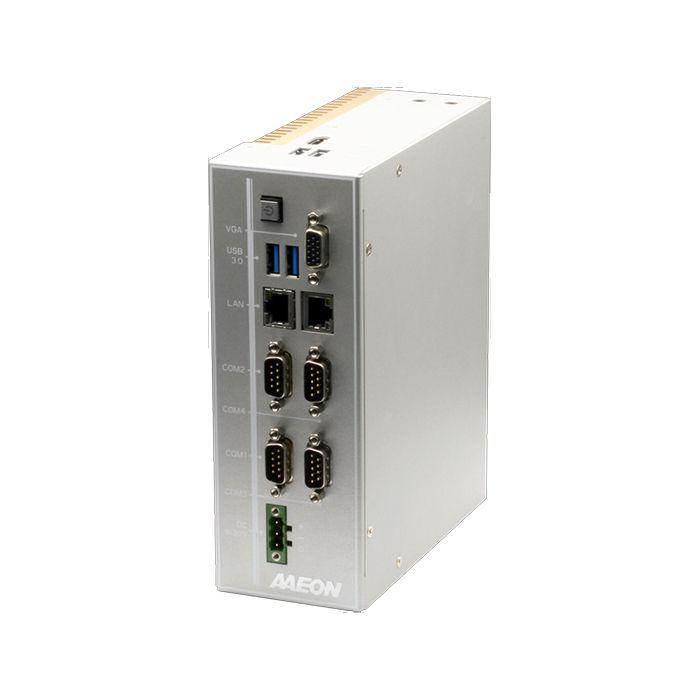 Minimum Cables Inside
All external I/O ports, except the VGA connector connected by a cable, are directly on the motherboard.
In addition, there is only: a wire harness between the motherboard and the expansion board, a data and power SATA cable, and wires to the backup battery. All connectors on the board are secured with hot melt adhesive.
Power Supply
The supply voltage range is 9 to 30V DC. It would be better if the range was 9 to 36V DC but max. input voltage 30 V also provides sufficient reserve to implement surge protection when powered from 24 V, the standard supply voltage used in industry.
BOXER-8320AI uses a 3-pin power connector. The mating connector, DECA MC101-50003, is included in the accessory. If you need a spare one, you can buy it here. The manufacturer recommends powering the computer from an 84W 12V/7A AC/DC adapter FSP084-DHAN3.
Software
You can download binary images of Linux distribution based on Debian 9.8 with Intel OpenVINO toolkit from AAEON web. The user manual provides step by step instructions on how to write the image to the SSD.
Check our unpacking video to see what the BOXER-8320AI looks like from the inside.
If you need more information about AAEON products, please contact our sales representative for your region or send us an email to aaeon@soselectronic.com; we will be happy to help you.

Videos
The BOXER-8320AI has the power of the 6th Generation Intel® Core™ i3 Mobile Processor. It is fanless, built with a din-rail mount design, and the advanced thermal design of the BOXER-8320AI allow it to operate in conditions from -20°C to 60°C.
Do not miss these articles
Do you like our articles? Do not miss any of them! You do not have to worry about anything, we will arrange delivery to you.