Strong penetrating sound, a typical warning alarm sound used to indicate reverse movement of vehicles. Sirens SAP-1302 series meet all requirements for the industry and transport segment.
This is an archive article published 03/25/2021. Some information may no longer be up to date and in line with the current state. Please contact us in case of interest.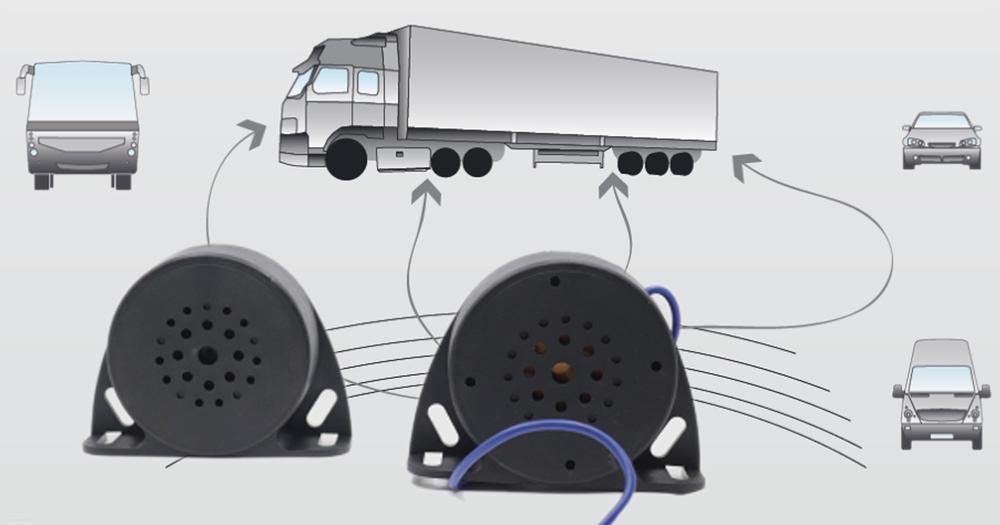 The penetrating "strength" and overall audibility of a given sound depends on various factors.
One of the most important ones is frequency, sound level (volume), type of sound (continuous, intermittent, sweep) and also the overall noise in the given environment (from traffic, machines, people).
Some typical tones have proven to be very easily audible over the years, even in very noisy environments. Naturally, that is why many vehicles produce more or less very similar sound for warning at the reverse movement.
Typically those are low frequencies in a range of approximately 1000 -2500 Hz. That's also why Sonitron, one of the world leaders in piezo technology, produces its SAP-1302 series with these frequencies and a typical intermittent sound (1Hz).
Usually, the SAP-1302 series are installed at the back of a car, truck, tractor, jeep, golf-trolley, ... or any other vehicle that can move in reverse at any moment, thus alerting people approaching the vehicle.
The quality, longevity and reliability are key factors at production; the SAP series are tested for use under all weather conditions IP67 and have a lifetime in continuous use of more than 1000 hours.
There are 4 basic versions of sirens available, differing in the frequency of the sound as well as its volume:

For easier use, Sonitron offers different connection versions, either with fastons or with a cable:
SAP-1302-A/B/C/D-F2 Fast-on F2, tinned brass 
SAP-1302-A/B/C/D-W standard cable length=30cm 
Sound levels: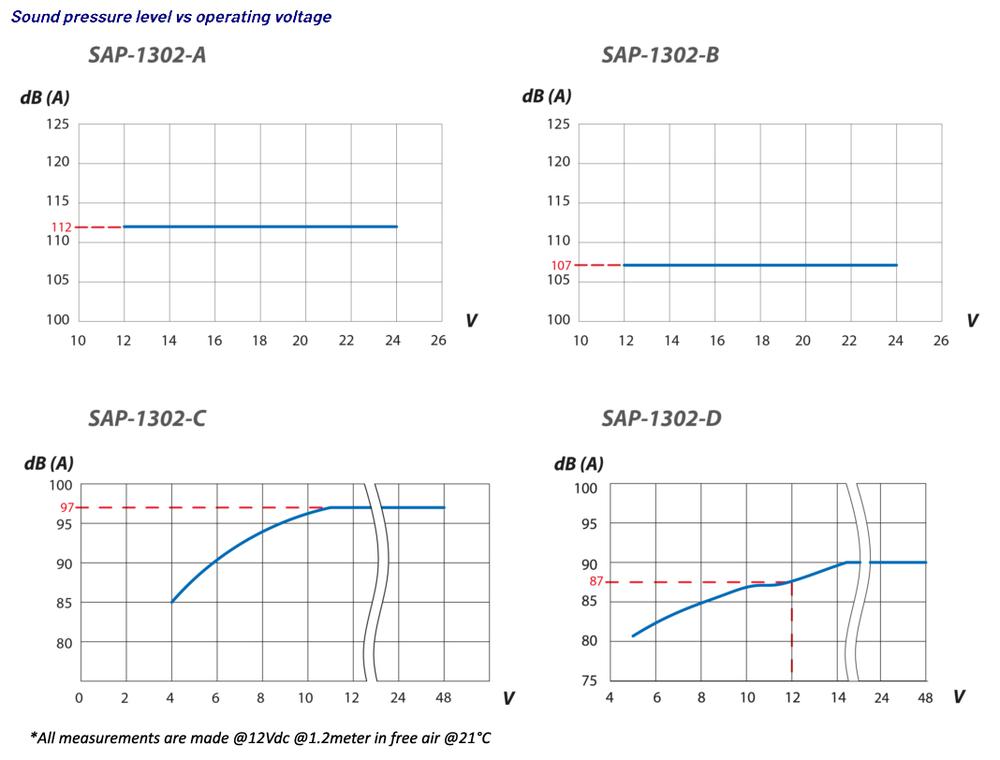 Our assortment offers a 
wide range of sirens
 for all areas of use, from hobby projects, through use in industry, transport but also in medical devices.
If you need more information about Sonitron products or want to help with selecting suitable electroacoustic elements, we are at your disposal at sales@soselectronic.com.
Features / Benefits of SAP-1302 sirens:
Very low current consumption (typically 65-145 mA @ 12V)

Dust-tight, shock and water-resistant (IP67)

Low frequency (large travelling distance of audible wavelength)

No magnetic field (EMC)

Robust fibre reinforced PBT housing

The high lifetime in continuous function

Easily mountable design

Multi-voltage application (12/24/48Vdc)
Do not miss these articles
Do you like our articles? Do not miss any of them! You do not have to worry about anything, we will arrange delivery to you.