We compared two cases of electronic circuit with the linear controller LM7805 and the switched DC/DC converter TSR1-2450. Let's have a look on how it went.
This is an archive article published 07/15/2021. Some information may no longer be up to date and in line with the current state. Please contact us in case of interest.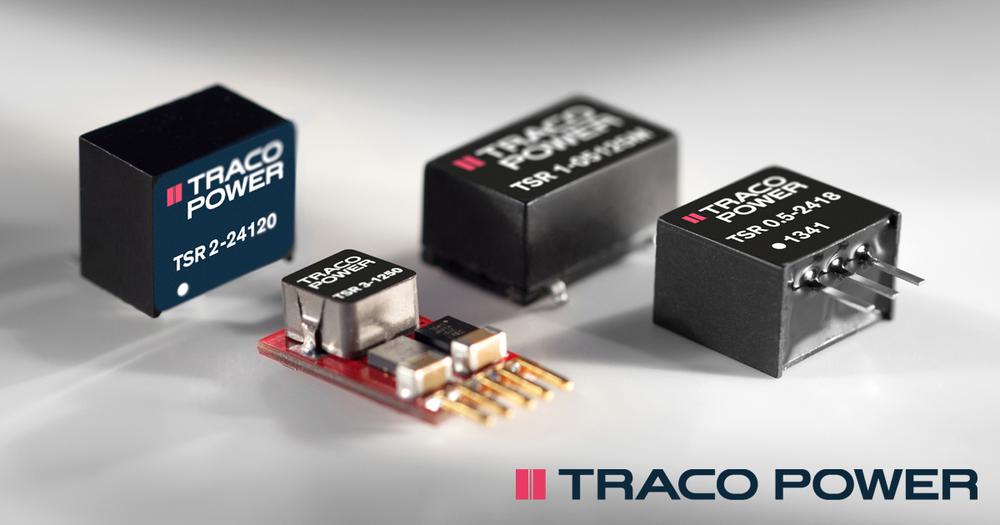 The old, well known LM78xx linear regulators are still in use in 2021, regardless of their inefficiency. They need bulky filter capacitors on input and output, heavy heatsinks and thus occupy a significant part of the PCB.
Let's compare the two cases. One uses the old-fashioned LM7805 linear regulator and the other uses TSR1-2450 switch-mode DC/DC converter from TRACO.
Let's assume we need to power our electronic circuit with 5V/0,5A from a 12VDC power source. When using LM7805, we lose 7x0,5=3,5W of energy and we need to use a bulky heatsink to radiate this power into the surrounding air. With TSR1-2450, we lose around 6-10% of input power, which is 0,1x0,5x12=0,6W. This is a significantly lower value (6x!) comparing to the linear regulator and it also means that we do not need to use any heatsink to cool the DC/DC converter.
In nowadays power consumption decreasing trend, it is preferable to eliminate useless losses, which also enables producing a device that generates less heat. These devices are usually more reliable, especially at higher surrounding temperatures. Things are getting worse with the linear regulator when the difference in Vin and Vout is increasing, but for DC/DC converter this is not a problem and input voltage could be as high as 36VDC.
The TSR-1 series step-down switching regulators are a drop-in replacement for inefficient LM78xx linear regulators. High efficiency of up to 96 % allows full load operation up to +60°C of ambient temperature without the need of any heat-sink or forced cooling. The TSR-1 switching regulators provide other significant features over linear regulators, i.e. better output accuracy (±2 %), lower standby current of 2 mA and no requirement of external capacitors. The high efficiency and low standby power consumption make these regulators an ideal solution for many battery-powered applications.
10 versions with output voltages ranging from 1,2VDC to 15VDC are available. Detailed information could be found in the TSR-1 datasheet. Models with negative output voltages are also available; P/N is TSRN-1.
For prices and delivery, please visit our webshop. If you need more information about TRACO POWER products, we will be glad to help at sales@soselectronic.com

Features and technical characteristics of TSR-1 Series:
High efficiency up to 96%, no heatsink required

Pin compatibility with LM78xx linear regulator, SIP3 package

Low standby current 2mA

Complete solution including inductor and capacitors (no external capacitors required)

Continuous short circuit protection

Wide input voltage range 4,6-36VDC

Perfect output voltage stability (0,6%)

Output voltage set accuracy ±2%

Low output ripple and noise

The best solution for battery-powered devices
Do not miss these articles
Do you like our articles? Do not miss any of them! You do not have to worry about anything, we will arrange delivery to you.