TracoPower DC/DC converters guarantee full performance in the harshest environmental conditions with maximum reliability. The TEP100WIR and TEN60WIR series meet the stringent requirements for railways in accordance with EN50155 and EN 61373 standards.
This is an archive article published 03/17/2021. Some information may no longer be up to date and in line with the current state. Please contact us in case of interest.
DC/DC converters for railway and ruggedised industrial applications must withstand greater disruptive forces than most stationary applications and are subject to greater demands for operational safety, durability and thermal shock.
TracoPower offers a wide selection of DC/DC converters that meet the stringent requirements for mobile and stationary railway applications following EN50155 standard: Increased EMC immunity against the surge, burst, radiated and conducted disturbances.
European standards EN 50155 and EN 61373 were established to provide internationally recognised standards for these applications. These standards are now considered to be the de facto symbol of quality, indicating robustness, reliability and durability in the railway and transportation sectors and applications with extreme environments.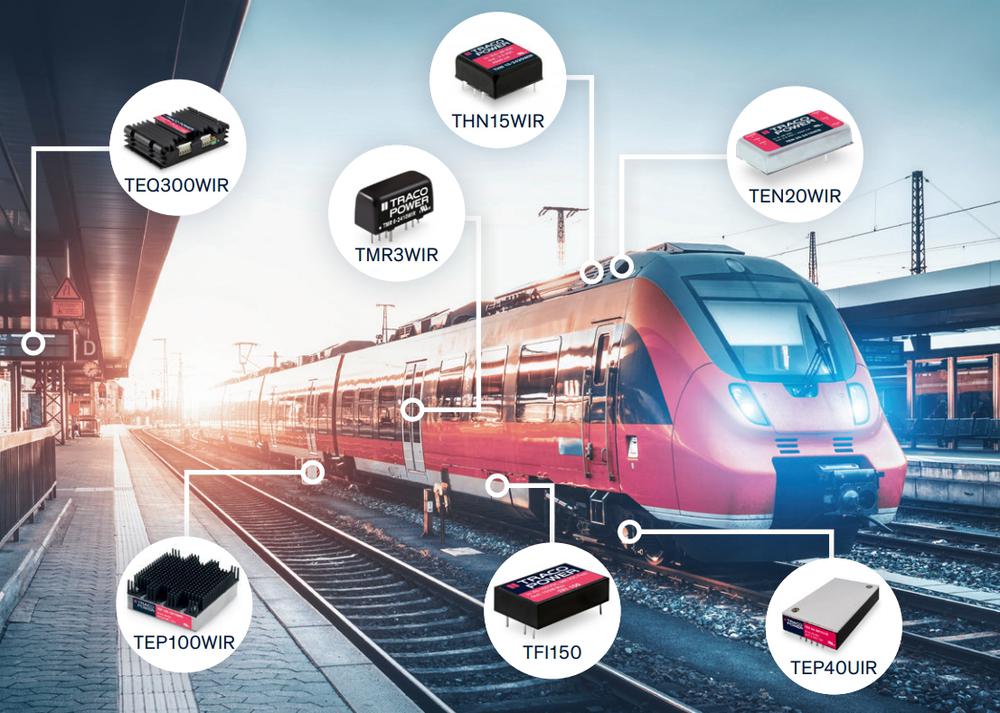 As an example, we have selected two DC/DC converters from the TRACO POWER portfolio.
TEP100WIR
The TEP 100WIR series is a family of isolated high-performance DC/DC converter modules with ultra-wide 4:1 input voltage ranges, which come in a rugged, sealed industry standard "half brick" package.
Very high efficiency allows full power operation without forced air cooling at 60°C. This temperature can be increased to 70°C with an optionally mounted heatsink or up to 85°C when mounted on an iron base plate. 
The very wide input voltage range and reverse input voltage protection make these converters an interesting solution for battery-operated systems. Typical applications are in telecom/datacom, industry control and railway systems for on board power distribution.
TEN 60WIR features:
The TEN 60WIR is a ruggedised 60-Watt railway approved DC/DC converter series with a wide 4:1 input voltage range and increased resistance against electromagnetic interference, shock/vibration and thermal shock.
The standard version comes with a preassembled heatsink designed for this 2" x 1" metal package converter. Together with high efficiency of up to 92%, this gives the converter an effective operating temperature range of -40° to +70°C without derating.
The approvals according to standards EN 50155 and EN 61373 qualify them for railway and transportation systems. Additional qualification for the fire behaviour of components according to EN 45545-2 and the safety approval according to IEC/EN 62368-1, UL62368-1 support a potential compliance test of the application. All models offer an I/O-isolation voltage of 3000 VDC and feature an active under-voltage lockout function, remote on/off and adjustable outputs to ensure that these converters fit in any ruggedised application setup.
For more information, please download the TRACO POWER Railway Power Solution Brochure.
If you want to know more about the challenges of ruggedised applications, check the technical article from TracoPower: Off-the-shelf, DC/DC converters, simplify the challenges of ruggedised applications.
Overview of railway certified DC/DC converters: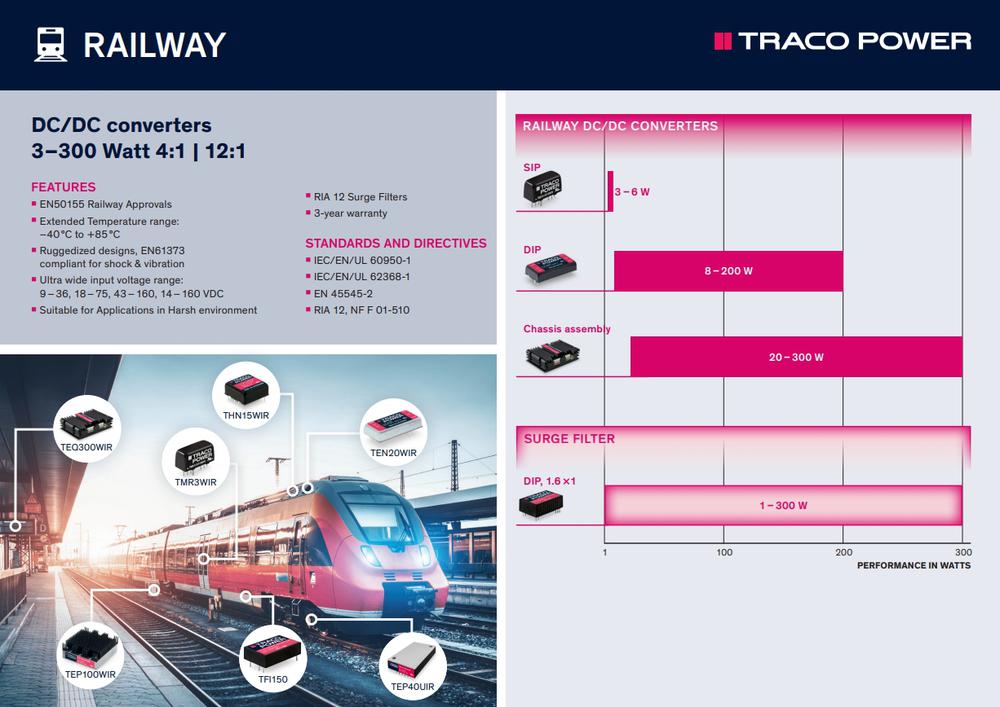 If you have any questions or specific requirements for ruggedized Railway grade DC/DC converters, do not hesitate to contact us at sales@soselectronic.com. We are ready to help you.

Videos
A comprehensive range of highly reliable and certified DC/DC converters that meet the stringent requirements for mobile and stationary railway, transport and other outdoor applications in accordance with EN50155 standard. Traco Power offers ruggedized power solutions for applications under the toughest environmental conditions.
Do not miss these articles
Do you like our articles? Do not miss any of them! You do not have to worry about anything, we will arrange delivery to you.