Using high-quality solder reduces the financial costs needed for new soldering tips. Weller comes with high-quality alloys in a series of solder wires, which will most likely meet your expectations. (reading for 3 minutes)
The Weller company is a manufacturer of first-class soldering equipment and its accessories. It has also recently launched its own series of WSW Weller soldering wires. It became very popular thanks to their qualities, so the manufacturer is coming up with a significant expansion of this assortment in terms of the number of different versions of the alloy and flux, the diameters of the soldering wire, as well as the packaging. The biggest innovation is the solder with a modern alloy called "SCN" (SnCuNi). It is highly resistant to oxidation at high temperature, thanks to which the resulting joints have a very good appearance as well as electromechanical properties. 
Advantages of Weller soldering wires compared to conventional solders:
Better service life of soldering tips
Homogeneous core with flux
Significantly reduced splash 
The highest quality of raw material
Wide selection of types and versions (alloy, flux, wire diameter)
The influence of solder properties on the resulting joints and the service life of soldering tips
Solder wires, also known as solder, tin, leaded and lead-free solder, usually contain various microalloying additives, the composition of which is usually the manufacturer's know-how and is not disclosed.
However, the fact that there are noticeable differences between the properties of different solders is less known. In the extreme case, a lower quality (optimized) solder can cut the service life of the tips in half. Our previous article, Over 200 new active tips for every joint, provides an overview of the Weller active heated tips suitable for microscopic work, or even soldering heatsinks and LEDs to aluminum-based PCBs. 
SOS electronic product specialist, Martin Brestovič, says in this regard:
"High-quality solder is not only recognized by the fact that you can achieve high-quality joints with it, but also by the fact that it also extends the service life of the soldering tips. In other words, the molten solder (alloy) together with the used flux is always aggressive to a certain extent and slowly but surely wears out the soldering tip. Mechanically, but mainly chemically."
Another aspect is the homogeneity of the flux in the solder wire. Ideally, the flux should be contained evenly along the entire length. Although manufacturers of soldering wires strive for the maximum quality of their products, it happens that inhomogeneities can appear in the flux which is in the core of the wire, which can cause the uneven quality of soldered joints. You can find answers to the most common questions and difficulties regarding manual soldering in our previous article How to solder: Practical advice for quality and efficient soldering.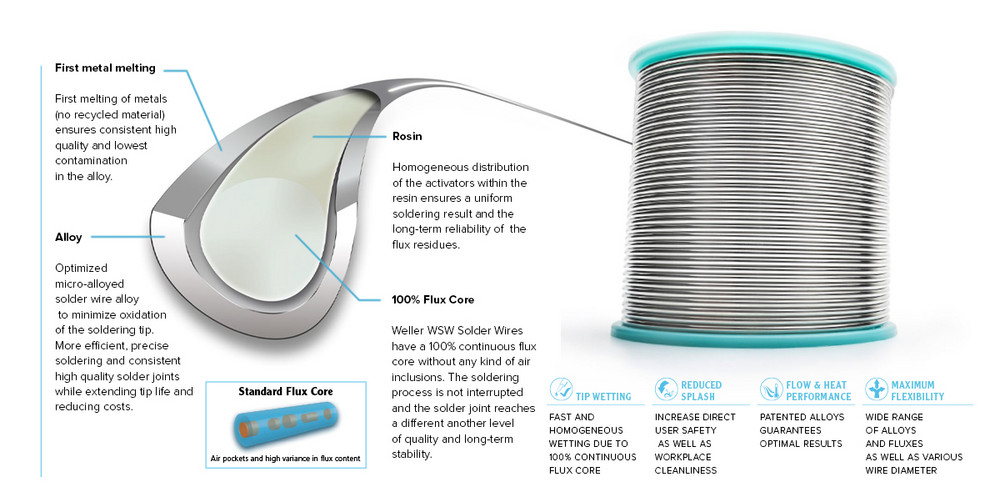 Advantages and characteristics of the WSW series of Weller soldering wires
The WSW Weller series of soldering wires has a solution to all the difficulties mentioned above. First of all, the manufacturer guarantees a homogeneous core with flux. One hundred percent continuous core with flux without microcracks and irregularities guarantees regular wire melting and trouble-free use, for example, also with automated wire feeders.
A big advantage is also significantly reduced splash, which ensures clean and efficient work, as well as the highest quality of the raw materials, i.e. materials with high purity since they come from the first melting. 
Last but not least, it should be mentioned that all types of soldering wires from the WSW series meet the requirements for "no clean" solder. After soldering, it is not necessary to clean the solder residues from the PCB.
Reduced Fe etching, resulting in increased tip life and up to 70% reduction in tip consumption, together with possible high soldering temperatures and very fast wetting even on challenging surfaces such as lightly soiled and oxidized materials (especially M1 class flux versions) are common features of the entire series of Weller WSW soldering wires.
An overview of the five types of WSW series soldering wires
WSW SAC M1
WSW SAC L0
WSW SC M1 
WSW SC L0
WSW SCN M1
SAC is an alloy containing silver, i.e. tin + silver + copper.
SC indicates a more economical alloy without silver, i.e. tin + copper.
SCN refers to the modern SCN alloy, i.e. tin + copper + nickel. 
 
 
M1 refers to versions with a medium-active flux containing halides, which is also suitable for surfaces with not always ideal solderability.
L0 versions refer to versions with a flux with lower activity and without halides. It is safe even for the most sensitive surfaces and is characterized by a high degree of safety in terms of corrosion.
Characteristics of the WSW Weller series of soldering wires
The following table shows an overview of the available types and versions of the WSW Weller series of soldering wires. They all belong to the "no clean" category.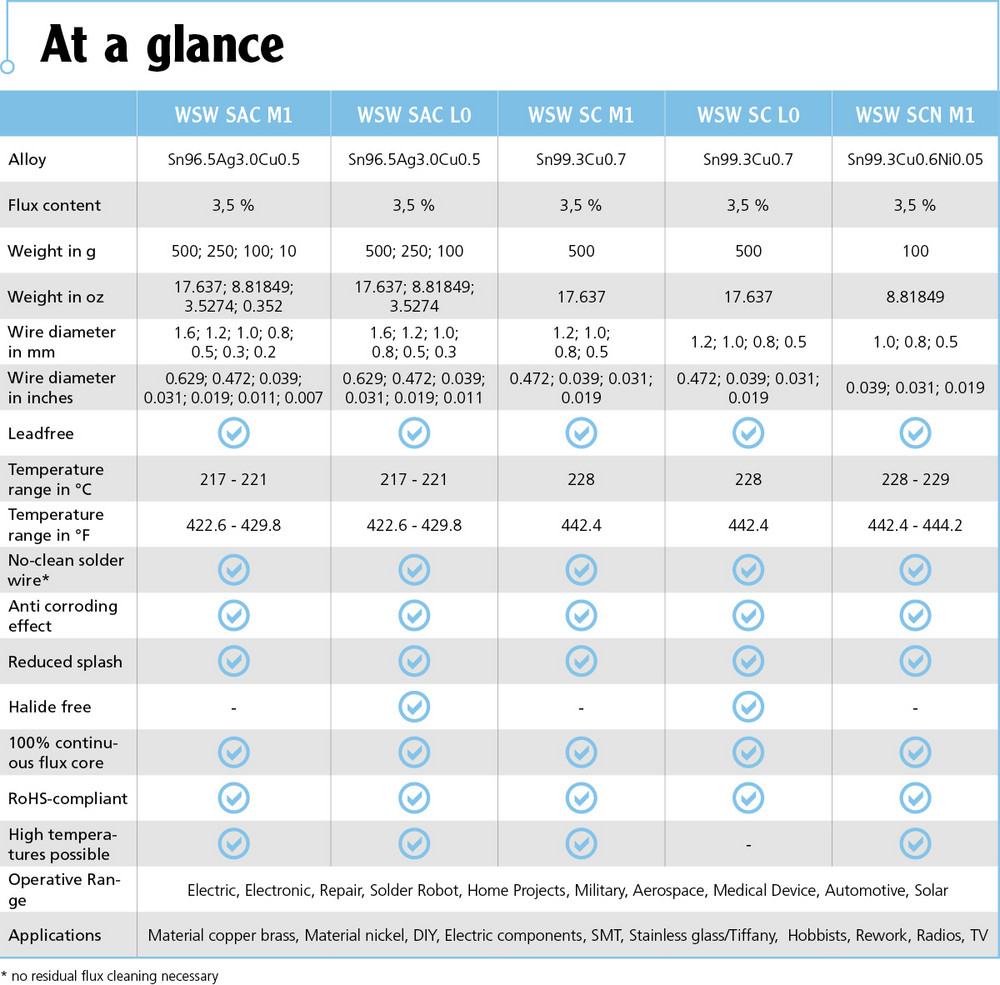 Due to Weller's wide range of soldering wires, we have selected the most common sample types and included them in our stock offer. However, we will be happy to provide you with all other types upon order in a short period of time and under favorable conditions.


Are you interested in more information on
Weller
products or
technical advice
on choosing a suitable solution? Or do you have
another
question
or
request
? Please fill out the following form, we will be happy to help you.
Do not miss these articles
Do you like our articles? Do not miss any of them! You do not have to worry about anything, we will arrange delivery to you.